Main content
A literary celebration of Queen Elizabeth II's record-breaking reign
17 April 2022
Queen Elizabeth II is the longest-serving monarch in British history, with a reign that began on 6 February 1952. The Big Jubilee Read celebrates great books from across the Commonwealth, to coincide with the Platinum Jubilee. It features 70 titles - ten from each decade of the Queen's reign. Read on to discover which inspiring writers are on the list and explore each decade in detail.
A collection spanning six continents
To mark Her Majesty's Platinum Jubilee, The Reading Agency have compiled a list of seventy novels, short story anthologies and poetry collections published in the Commonwealth since 1952.
An expert panel of librarians, booksellers and literature specialists has chosen seventy titles from a "readers' choice" longlist with ten books for each decade of Her Majesty The Queen's reign.
The list offers brilliant, beautiful and thrilling writing produced by authors from a wide range of Commonwealth countries over the last seventy years to engage all readers in the discovery and celebration of great books.
Spanning 31 countries and six continents, this truly international collection is a fitting tribute to the most widely travelled monarch in history.
The Big Jubilee Read will connect a broad range of readers across the UK with great Commonwealth reads, and will be supported by events and activities in libraries and bookshops, as well as resources to unite reading groups across the country.
Listen to Front Row's live show from the Studio Theatre at the Library of Birmingham


The Palm-Wine Drinkard - Amos Tutuola (1952, Nigeria)
The Hills Were Joyful Together - Roger Mais (1953, Jamaica)
In the Castle of My Skin - George Lamming (1953, Barbados)
My Bones and My Flute - Edgar Mittelholzer (1955, Guyana)
The Lonely Londoners - Sam Selvon (1956, Trinidad and Tobago/England)
The Guide - R. K. Narayan (1958, India)
To Sir, With Love - E. R. Braithwaite (1959, Guyana)
One Moonlit Night - Caradog Prichard (1961, Wales)
A House for Mr Biswas - VS Naipaul (1961, Trinidad and Tobago/England)
Sunlight on a Broken Column - Attia Hosain (1961, India)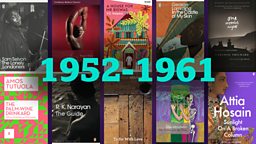 An ex-RAF pilot confronts racism in the classroom; a young girl is caught up in the partition of India; and an alcoholic goes in search of his dead palm-wine tapster.


A Clockwork Orange - Anthony Burgess (1962, England)
The Interrogation - J.M.G. Le Clézio (1963, France/Mauritius)
The Girls of Slender Means - Muriel Spark (1963, Scotland)
Arrow of God - Chinua Achebe (1964, Nigeria)
Death of a Naturalist - Seamus Heaney (1966, Northern Ireland)
Wide Sargasso Sea - Jean Rhys (1966, Dominica/Wales)
A Grain of Wheat - Ngũgĩ wa Thiong'o (1967, Kenya)
Picnic at Hanging Rock - Joan Lindsay (1967, Australia)
The Beautyful Ones Are Not Yet Born - Ayi Kwei Armah (1968, Ghana)
When Rain Clouds Gather - Bessie Head (1968, Botswana/South Africa)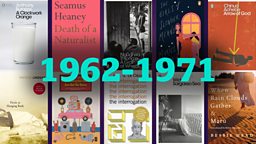 A Nigerian priest believes he has been chosen by his god; an Englishman and a South African join forces to modernise their community; and a group of Australian schoolgirls vanish without trace.


The Nowhere Man - Kamala Markandaya (1972, India)
Tinker Tailor Soldier Spy - John Le Carré (1974, England)
The Thorn Birds - Colleen McCullough (1977, Australia)
The Crow Eaters - Bapsi Sidhwa (1978, Pakistan)
The Sea, The Sea - Iris Murdoch (1978, England)
Who Do You think You Are? - Alice Munro (1978, Canada)
The Hitchhiker's Guide to the Galaxy - Douglas Adams (1979, England)
Tsotsi - Athol Fugard (1980, South Africa)
Clear Light of Day - Anita Desai (1980, India)
Midnight's Children - Salman Rushdie (1981, England/India)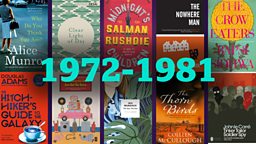 An Indian family move from the countryside to the bustling city of Lahore; a retired spy is recruited to hunt down a mole in the British Secret Service; and Earth is demolished to make way for a hyperspace bypass.


Schindler's Ark - Thomas Keneally (1982, Australia)
Beka Lamb - Zee Edgell (1982, Belize)
The Bone People - Keri Hulme (1984, New Zealand)
The Handmaid's Tale - Margaret Atwood (1985, Canada)
Summer Lightning - Olive Senior (1986, Jamaica)
The Whale Rider - Witi Ihimaera (1987, New Zealand)
The Remains of the Day - Kazuo Ishiguro (1989, England)
Omeros - Derek Walcott (1990, Saint Lucia)

The Adoption Papers - Jackie Kay (1991, Scotland)
Cloudstreet - Tim Winton (1991, Australia)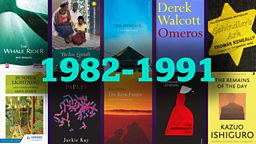 A woman is forced to serve as a Handmaid in a dystopian future society; a German industrialist saves hundreds of Jews from death in Auschwitz; and a Maori artist meets a mute six-year-old with a haunting past.


The English Patient - Michael Ondaatje (1992, Canada/Sri Lanka)
The Stone Diaries - Carol Shields (1993, Canada)
Paradise - Abdulrazak Gurnah (1994, Tanzania/England)
A Fine Balance - Rohinton Mistry (1995, India/Canada)
Salt - Earl Lovelace (1996, Trinidad and Tobago)
The God of Small Things - Arundhati Roy (1997, India)
The Blue Bedspread - Raj Kamal Jha (1999, India)
Disgrace - J.M. Coetzee (1999, South Africa/Australia)
White Teeth - Zadie Smith (2000, England)
Life of Pi - Yann Martel (2001, Canada)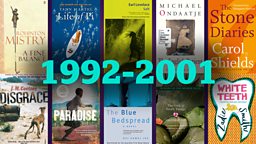 Two veterans of World War Two try to rebuild a life in London; fraternal twins grow up amongst political turmoil in Kerala; and a young boy is stranded at sea with a ferocious Bengal tiger.


Small Island - Andrea Levy (2004, England)
The Secret River - Kate Grenville (2005, Australia)
The Book Thief - Markus Zusak (2005, Australia)
Half of a Yellow Sun - Chimamanda Ngozi Adichie (2006, Nigeria)
A Golden Age - Tahmima Anam (2007, Bangladesh)
The Boat - Nam Le (2008, Australia)
Wolf Hall - Hilary Mantel (2009, England)
The Book of Night Women - Marlon James (2009, Jamaica)
The Memory of Love - Aminatta Forna (2010, Sierra Leone/Scotland)
Chinaman - Shehan Karunatilaka (2010, Sri Lanka)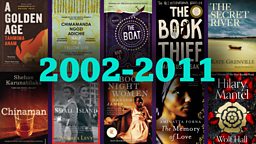 A commoner causes turmoil in the court of King Henry VIII; a London waterman is transported to New South Wales; and a Pakistani woman tries to create a day to remember.


Our Lady of the Nile - Scholastique Mukasonga (2012, Rwanda)
The Luminaries - Eleanor Catton (2013, New Zealand)
Behold the Dreamers - Imbolo Mbue (2016, Cameroon)
The Bone Readers - Jacob Ross (2016, Grenada)
How We Disappeared - Jing-Jing Lee (2019, Singapore)
Girl, Woman, Other - Bernardine Evaristo (2019, England)
The Night Tiger - Yangsze Choo (2019, Malaysia)
Shuggie Bain - Douglas Stuart (2020, Scotland)
A Passage North - Anuk Arudpragasam (2021, Sri Lanka)
The Promise - Damon Galgut (2021, South Africa)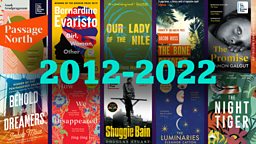 A South African family gather for the mother's funeral; a young boy in Singapore sets out to discover what happened to his grandmother during the Japanese invasion; and a ghost story unfolds in the goldfields of New Zealand.

The Big Jubilee Read novels were chosen by a panel of Commonwealth experts, academics, booksellers and librarians, assembled by the Reading Agency. The campaign is a partnership between BBC Arts and The Reading Agency with additional funding from Arts Council England and support from Libraries Connected and the Booksellers Association. It follows on from other collaborations between The Reading Agency and the BBC, including the national Big Read survey in 2003.
The books on The Big Jubilee Read list have been chosen for adults, therefore some may not be suitable for younger readers.
The Platinum Jubilee on the BBC

Discover more about brilliant books across the BBC