Main content
Book Your Place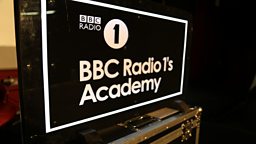 Radio 1's Academy will be coming to The Albemarle Music Centre in Hull between 21st -25th May 2017.
How do I book a place?
**Places for this year's Radio 1 Academy is now filled up.**
If you are 16-19 years old, you can apply to attend all sessions and workshops, for free, online.
Unfortunately, because of huge demand, we can't guarantee everyone who applies a place - so make sure you book early! Tickets are available from 11am on the 6 May 2017 if you live in Hull, and then available to the rest of the UK from the 8th June.*
You can sign up to as many sessions as you like and remember - it's all free.
What about live music?
There will be live music every day at the Academy and a BBC Music Introducing gig on the 25th May.
You can find more information, dates and details here.
Can I just turn up at the door?
Yes you can. If sessions are already full we will be operating a standby system for any booked places not taken up by the time the session begins; however, we cannot guarantee entry as people who have booked a place will have priority.
Is it free to attend?
Yes – absolutely!
Is there a minimum or upper age limit?
Radio 1's Academy is aimed at those aged 16-19. There is a minimum age restriction of 16.
I don't live in Hull - can I still attend Radio 1's Academy?
Yes! Radio 1's Academy is open to anyone, as long as you can be at the session in person.
Will I be able to claim travel or accommodation expenses to and from Radio 1's Academy?
Unfortunately, we are unable to provide travel or accommodation expenses at Radio 1's Academy.
Where will Radio 1's Academy 2017 take place?
There is one location for bookable Radio 1's Academy sessions and workshops: 21st to 25th May at The Albemarle Music Centre, Ferensway, Hull.
Is there disabled access at Radio 1's Academy?
Yes – the facilities include wheelchair access, accessible toilets, a hearing loop and a lift to upper floors.
Will I get to meet the Radio 1 and 1Xtra DJs?
We can't promise that you will get to meet any of the guests at Radio 1's Academy; however, Radio 1's DJs will be present every day.
Is there a restriction on how many sessions I can attend?
There are no restrictions as to how many tickets you can have, but we do oversubscribe the sessions as not everyone will turn up.
Do I need to bring ID?
Yes please. All tickets will be named, and only people with ID that matches the name on their allocated place will be allowed in.