Main content
Stonewall at 50: The LGBTQ+ journey from prejudice to pride
31 May 2019
28 June is the 50th anniversary of the Stonewall riots in New York, a landmark moment in LGBTQ+ history and the fight for equal rights. At Hay Festival authors and activists discussed the events that took place at the Stonewall Inn and why they matter half a century later.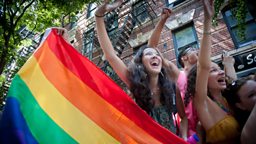 Crowds on Christoper Street mark the 45th anniversary of the Stonewall riots | Photo: Bryan Smith/ZUMAPRESS.com/Alamy Live News
The Stonewall riots were the beginning of what we call the current LGBTQ+ movement for liberation. Matthew Todd, author of Pride and Straight Jacket and former editor of Attitude magazine, acknowledges that despite its significance, lots of people don't know about Stonewall.
Teaching that LGBT+ people even exist is still controversial to some people

Matthew Todd
He says: "Our history isn't told. As we can see with what's happening with the schools in Birmingham and the protests, teaching that LGBT+ people even exist is still controversial to some people. So the actual nuts and bolts of the history largely isn't told."
YouTuber and radio presenter Calum McSwiggan says: "I would go as far as saying there is erasure of LGBT+ history.
"I know growing up, in school I wasn't taught about a single LGBT+ person, not knowingly as least, and certainly wasn't hearing things about Stonewall."
This is something author Amy Lamé is trying to change with her book, an LGBTQ+ history aimed specifically at young people.
She says: "Historically these people have been ignored, they've been oppressed, they've been victimised and they are often fighting for their rights together."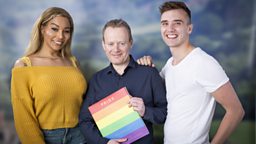 Munroe Bergdorf, Matthew Todd and Calum McSwiggan at Hay | Photo: Paul Musso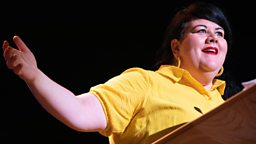 Amy Lamé at Hay | Photo: Morgan Williams
What was Stonewall?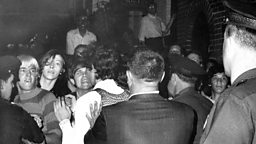 A crowd tries to impede arrests outside the Stonewall Inn on Christopher Street in Greenwich Village | Photo: NY Daily News Archive via Getty Images
In 1969 The Stonewall Inn was the one gay venue in New York that allowed patrons of the same gender to dance together, something that was illegal and could lead bars to lose their liquor licences.
People who were on the margins of an already marginalised community would go to the Stonewall Inn.

Matthew Todd
At that time the Mafia ran all of Manhattan's gay bars - not out of support for the LGBTQ+ community, but for profit.
In his book Pride, Todd describes the Stonewall Inn as more diverse than other bars, with clientele including people who were trans, gender non-conforming and young. Many had been kicked out by their families and moved to New York.
He says: "People who were on the margins of an already marginalised community would go to the Stonewall Inn."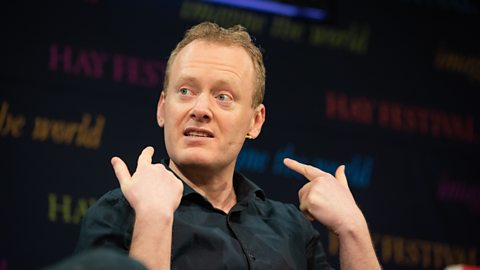 In 1969 a riot began at a Mafia-run Manhattan bar called The Stonewall Inn.
Despite being paid off by the venue owners the police still had to be seen to be trying to stop this illegality and would raid the bar on a regular basis. Beforehand they would tip off the Mafia who would make sure there was less money in the tills. A few arrests would be made and alcohol removed.
It was this key, pivotal moment where people decided that the time was right to fight back.

Matthew Todd
In the week of the Stonewall riots the bar had already been raided on the Tuesday. It was highly unusual to be raided twice in one week but in the early hours of Saturday 28 June the police raided the bar again, and this time people fought back.
Those not being arrested were released one by one into the street but didn't leave. People in the street stopped to watch the commotion. As more police vans arrived people chanted 'we will overcome'.
Arrests got rougher, the crowd grew, a trans woman hit back at police with her handbag and was struck with a baton. Rocks, coins and bottles were were thrown as it escalated into a full scale riot with the police barricading themselves in the bar.
People called their friends to join and activist Craig Rodwell called the local papers. The next day crowds of more than 2,000 are estimated to have gathered in Greenwich village to view the Stonewall Inn which had been daubed with slogans such as 'Gay Power'.
Todd says at the time of the riots there were existing groups protesting for LGBTQ+ rights but this was the moment that galvanised people. A year later the first Christopher Street Liberation Day was organised in honour of what had happened at Stonewall, and which was in effect New York's first gay pride march.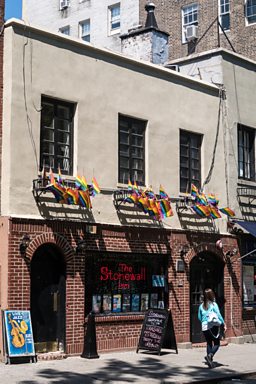 The Stonewall Inn in 2017 | Photo: Patti McConville / Alamy Stock Photo
Why it's important 50 years on
Today Pride is synonymous with the rainbow flag, a symbol of community and an emblem that is readily embraced by brands. Todd says it's important to remember how it began: "I think we're really detached from the fundamental moment which was anger and injustice and real suffering and people really saying: we have to fight back."
If we don't know where we've come from how can we measure where we need to go?

Munroe Bergdorf
Lamé asks what good history is if we don't learn from it: "It's important to learn about the history so we can grow to be more accepting and more understanding of all people." Todd notes that trans stories are currently being treated in the way gay men were in the 80s.
It's also important to honour the individuals involved, who are often forgotten from history. Lamé cites Stormé DeLarveries as an example, a black lesbian and member of the first interracial cabaret who scuffled with police at The Stonewall Inn.
Bergdorf says that learning about the involvement of black trans women in Stonewall made her feel she had a right to be here. She says: "When I learned about Marsha P Johnson and Sylvia Ray Rivera and their roles within the Stonewall riots as a transgender woman of colour it really opened my mind to my identity. I think that's why it's so important that we share our stories and we get our history out there, because if we don't know where we've come from how can we measure where we need to go?"
Matthew Todd, Munroe Bergdorf and Calum McSwiggan appeared at the Hay Festival event Pride: From Stonewall to the Present on Monday 27 May, Amy Lamé was part of the Hay Festival Programme for Schools. Pride by Matthew Todd is published by Carlton Books.
Christopher Street Gay Liberation Day parade in New York, 1971 | Photo: Yigal Mann/Pix/Michael Ochs Archives/Getty Images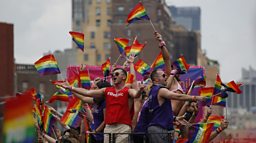 New York City's Pride parade in 2018 | Photo: Kena Betancur/Getty Images