Main content
Highly strung: What does it take to win the Menuhin Competition?
15 April 2016
Yehudi Menuhin, one of the world's greatest violinists, was born 100 years ago in April 1916, and the biennial international competition named after him is taking place in London for the first time in 12 years. The Menuhin Competition features 44 young violinists from around the world, and in the past has been won by future stars like Julia Fischer and Nikolaj Znaider. JOE MILLER spoke to some of the competitors and judges about the intriguing world of violin prodigies, asking just what it takes to succeed there and become a concert hall star.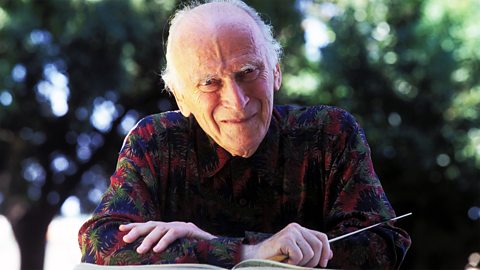 International competition for violinists, in London for the Yehudi Menuhin Centenary
How do you practise spontaneity? How do you rehearse "star power"? Those are the insoluble dilemmas facing the 44 young violinists taking part in the prestigious Menuhin Competition this week.
Named after one of the greatest soloists in history, Yehudi Menuhin, the tournament has a knack for catapulting its prize-winners to international stardom, having launched the careers of concert-hall fillers such as Julia Fischer and Nikolaj Znaider over the decades.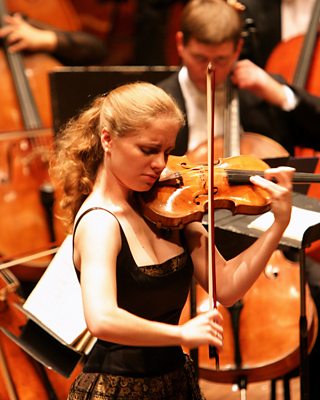 Julia Fischer and the Dresden Philharmonic, 2004 | Getty
This year's competitors - the youngest of whom, Samuel Tan, is just 11 years old - know that the London event has an extra layer of significance, as it marks the centenary of Menuhin's birth, in 1916.
But for all the hours of practice the young musicians have endured, for all the refining of their chosen repertoires, there is still an element of serendipity needed to emerge triumphant.
"You may or may not be [the judges'] cup of tea on the day," explains Ariel Horowitz, a bubbly 19-year-old from Bloomington, Indiana, who counts Itzhak Perlman and Catherine Cho among her teachers at The Juilliard School in New York.
"You can never really control the outcome, because judges all look for different things."
Among the jury at the Menuhin this year is a man who is understands that conundrum.
Menuhin 100
Radio 3 marks the centenary of Yehudi Menuhin's birth with a week of special programming

BBC Four explores the extraordinary life of one of the 20th century's greatest violinists
Ariel Horowitz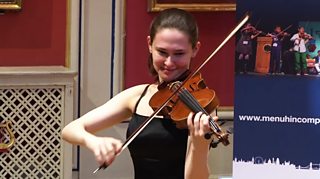 Ariel Horowitz on stage at the Menuhin Competition
Ariel Horowitz is 19 and comes from Bloomington, Indiana. She first started playing violin aged four and the Menuhin is her fourth international competition. She studies at the Juilliard School.

The 44 competitors are introduced at the Menuhin Competition 2016, London
Taiwanese-Australian virtuoso Ray Chen first took part in the competition in 2004, aged just 14, and then won first prize when he returned four years later, with a memorable rendition of Mendelssohn's Violin Concerto in the final.
A little bit of originality, or I would just call it - downright anarchism

Ray Chen, Menuhin Competition Juror 2016
"I was very nervous," he recollects. "Looking back now, I didn't really play according to the rules."
A rebellious streak may have made all the difference, both at the Menuhin, and in his subsequent career.
"That's actually what sets me apart," says Ray, who is also known for his playful social media presence, and his eagerness for experimentation. "A little bit of originality, or I would just call it - downright anarchism".
Going for anarchism on its own, however, is a risky strategy, and it is largely technique - sound, intonation, and musicality - that each player must exhibit to the highest standard. And yet, you can be technically perfect on the night, and still fail to capture the most elusive of all qualities.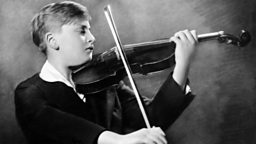 Yehudi Menuhin aged 14 | Getty
Ray Chen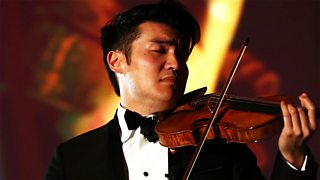 Ray Chen playing in London, 2014 | Getty
Ray Chen won the Menuhin Competition in 2008, and is a Jury member in 2016.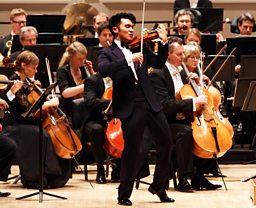 Ray Chen performs with the Royal Stockholm Philharmonic at Carnegie Hall, New York in 2013 | Getty
The top awards, explains another juror, British violinist Tasmin Little, will go to "the person who moves me, the person who makes me feel lots of different emotions, and the person who I feel really expresses the inner sense of the music".
I feel like I'm actually connecting with the audience, actually trying to play for them, rather than for myself

SongHa Choi, competitor
This trump card, she stresses, is not only necessary to tickle the tastes of those appraising the young talents, but is also what can make or break a career, especially in an age where live performance accounts for a large portion of a classical musician's salary.
It's a demand with which some competitors are all too familiar, none more so than Louisa Staples and SongHa Choi, both 16-year-old students at the highly selective Yehudi Menuhin School in Surrey.
Practicing alone for hours on end in the school's nurturing confines is one thing, but, as Louisa admits, "when I get on stage I sometimes feel slightly restricted".
"I think about not making mistakes, about playing without errors," she says, "but my teacher keeps telling me that's not the most important thing."
For SongHa, who moved to the UK from South Korea to attend the Menuhin School, performing in front of a crowd actually helps.
"I feel more comfortable," she explains. "I feel like I'm actually connecting with them, actually trying to play for them, rather than for myself."
Indeed, it's hard to imagine the supremely confident duo being fazed by anyone, let alone a generally supportive home audience, partially obscured by blinding stage lights.
But, perhaps unsurprisingly for teenagers whose closest friends are other young musicians, it's the judgment of their peers that they dread most of all.
"Playing at school is definitely the worst", says Louisa.
"Often, you actually care what these people think. Whereas playing outside of school is somehow more liberating."
Ariel Horowitz, who is a competition veteran in comparison with Louisa and SongHa, says that liberation is, in some ways, more important than the coveted silverware.
"As long as you step off the stage and you feel like 'that was the most honest music that I could have possibly made at that time', whatever the result is, that's what really feels good," she explains.
Tasmin Little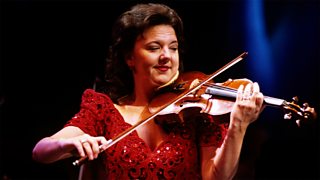 Tasmin Little on stage | Getty
Tasmin Little was a Senior prizewinner in both the inaugural Menuhin Competition in 1983 and the Competition in 1985, and is a Jury member in 2016.
SongHa Choi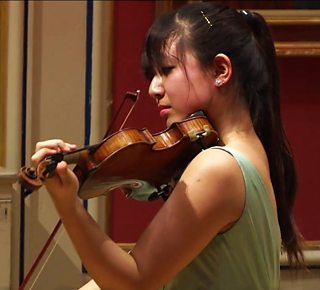 SongHa on stage at Menuhin 100
SongHa Choi, 16, was born in Germany and studied in South Korea. She first started playing violin aged seven and is now at the Menuhin School.
And if you ask Ray Chen, the development of all the players' performances is as much a part of the Menuhin as the career-forming gongs.
Young people are always improving - they have that philosophy, that mindset

Ray Chen
"I've participated in many competitions in which I did not win," says the 27-year-old. "In the end it's about the experience."
The experience is not just about the music. For the 37 girls and seven boys from around the globe taking part in the Menuhin this year, this is an opportunity to meet others who have had similar childhoods to them, and who may very well go on to share the same circuit as their adult careers take off.
"That's the beauty of competitions for young people," says Ray, fondly remembering the other young prodigies he met at such events, and the friendly rivalries that spurred him on. "Young people are always improving - they have that philosophy, that mindset, and competitions give them the environment to flourish."
The Menuhin Competition 2016 takes place in London, with the final on Sunday 17 April.
Louisa Staples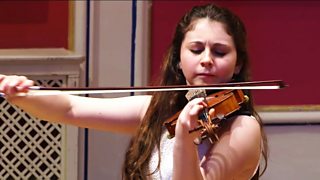 Louisa Staples on stage at the Menuhin Competition

Louisa Staples, 16, is from London and first started playing violin aged six. She now studies at the Menuhin School.
Arts highlights on BBC iPlayer
Watch 12 mesmerising performances from Dancing Nation, a sampler of UK dance in all its forms.

Chizzy Akudolu presents a new collection of dramatic short films.

The Oscar-nominated actress gives a singing masterclass.