Main content
Time please! Join a Desi pub crawl
East meets West in Desi pubs, where the classic English pub with its ales, darts and dominos meets Punjabi food and Bhangra music. Join Get Creative champions Creative Black Country on a unique Desi Pub crawl.
For over 30 years, the Black Country has been quietly incubating the Desi pub and six artists artists have been working with this new breed of landlord for a one-off summer exhibition.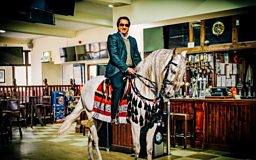 Amrik at the Fourways in Rowley Regis by Jagdish Patel
Asian landlords have been salvaging the struggling pub trade by reinventing failed pubs for new communities. The Black Country is uniquely populated with around fifty successful Asian run pubs which serve traditional 'Punjabi dhaba' style curry.
Prince of Wales by Dee Patel
The story has many layers and includes tales of migration, survival, love, and the remarkable meeting point of the English Pub and once Indian migrant.

Parminder Dosanjh, Creative Director at Creative Black Country
The pubs have their own signature dishes that attract punters from all over the region. Desi pubs have been popping up since the 70s initially frequented by mostly Asian men working in the foundries.
The landlords of six of these pubs have opened their doors and shared their stories with six artists over a pint.
Portraits, stained glass windows, photography, mosaics, and handcrafted pub signs have been produced for permanent display in each pub.
Landlords Beera, Jinder, Jeet, Dal, Slack and Amrik have helped shape bespoke creations which capture the heart and soul of each venue and their punters.
The installations are on display at Southbank Centre's Alchemy Festival until 30 May. But if you want to experience them in situ, the artwork will be on display at the six featured Desi pubs throughout the Black Country from the end of July. And you'll be able to join a Desi Pubs crawl, take a look at the works, try some food and soak up the atmosphere that inspired the works.
This collection is part of an ongoing body of work produced by Creative Black Country that includes an archive, broadcasts and a publication.
Parminder Dosanjh, Creative Director at Creative Black Country, says: "The project is about telling this extraordinary story in the sincerest way and paying homage to the people at the heart of it. The story has many layers and includes tales of migration, survival, love, and the remarkable meeting point of the English Pub and once Indian migrant."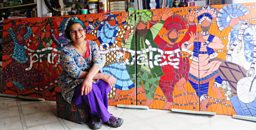 The Prince of Wales by Caroline Jariwala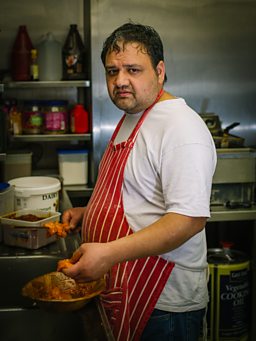 The Ivy Bush, Smethwick by Jagdish Patel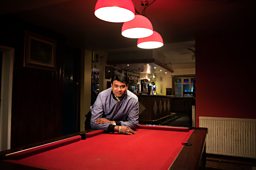 Prince of Wales pub by Dee Patel

The Red Lion by Steven Cartwright