Main content
Composing the music for the series
David Mitcham, composer
It was obvious from the outset that 'Earth's Greatest Spectacles' needed a cinematic feel to the soundtrack, epic and intimate by turns. Keeping the audience aware of time passing was another key part of the score along with reinforcing the sense of place in our three unique locations.
I decided to use a palette of string quartet, woodwind soloists, guitars, double bass and voices as well as an eclectic mix of acoustic sounds that I then manipulated electronically. While the series was still being shot I composed a suite of pieces that set the tone and paved the way for the detailed scoring that was to follow during postproduction. Most important in all this was coming up with the simple rising motif that all the music in the series springs from so it all feels connected even when the musical genres involved are quite varied.
I put together an amazing team of musicians to play the music for this series. Our wind players were led by Philippa Davies on the flute and piccolo and Michael Whight on clarinet and bass clarinet. Philippa has played on lots of famous film scores, including the Harry Potter films and Michael has played principal clarinet for London's Philharmonia and Royal Philharmonic orchestras as well as playing on lots of blockbuster film scores.
Our quartet of string players are the Emperor Quartet who also form the nucleus of the strings in Peter Gabriel's New Blood Orchestra.
As well as my lap steel guitar, dobro and balalaika playing you can hear the sublime acoustic and electric guitar and mandolin playing of John Parricelli (who can also be found in the 'Strictly' band), the haunting vocals of Jacqui Dankworth, the brilliant fiddle and electric violin playing of Christian Garrick and the folk fiddling of Richard Curran (he did the chipmunk nut duel).
I played some of the more unusual sounds on the soundtrack. The harmonic-rich sound of the bowed cymbal weaves its way through the score – it adds a wonderful energy to some of the transition moments. I also recorded a selection of antique clocks and resonant knocking on the piano to give the music its time-conscious feel.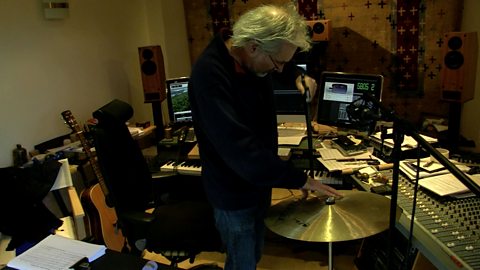 Get an insight into how the music was created for the series.