Main content
Can you Beat Beethoven?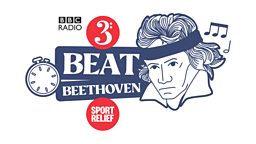 Whether you're a budding jogger or a half marathon challenger, join us for a race like no other and help Sport Relief raise life-changing amounts of money to support people living incredibly tough lives in the UK and around the world.
On Friday 13 March, as part of Sport Relief, the BBC Philharmonic orchestra played Beethoven's famous Fifth Symphony live at MediaCityUK. You can still join hundreds of other people challenging themselves to run 5K and "beat" the music, which lasts just over 30 minutes. Select "Beat Beethoven your way" to sign up for a Sport Relief giving page, then run your own race with a free download of the music from Radio 3 on BBC Sounds.
So, what are you waiting for? Help us take on poverty and injustice, get your kit on and join us.
Sport Relief – It's Game On
#BeatBeethoven
Challenge yourself to run 5K in the time it takes to listen to this free download of Beethoven's mighty Fifth Symphony.
FAQs
How does Beat Beethoven work?

Your challenge in March 2020 is to "Beat Beethoven" by running five kilometres in the time it takes to listen to Beethoven's Fifth Symphony.

On the afternoon of Friday 13 March, BBC Radio 3 and BBC Sport invited hundreds of people to run 5K as the BBC Philharmonic orchestra played Beethoven's Fifth live – raising money for Sport Relief along the way.

But don't worry if you missed it. You can catch up on all the action of the live race by listening back to the live broadcast on Radio 3 - and Beat Beethoven wherever you are, using our special Beat Beethoven download from BBC Sounds.
What are the timings for the 5K event in Salford on 13 March?

The race around Salford's MediaCity is scheduled to start at 4.15pm, but you may need to arrive around 30 minutes early to collect your race number and warm up.

The race organisers will contact you with all the details once you've signed up. In the meantime you can find more information, including the course map and T&Cs, on the event website.

(Clicking the above link takes you to Runthrough Events's website, where you are subject to Runthrough's T&Cs and privacy policy.)
How can I take part if I'm busy on the day of the race?

Busy on 13 March? No worries. You can do your fundraising 5K at any time up until 29 March, using a free download of Beethoven's Fifth from BBC Sounds.

All you need is the free BBC Sounds smartphone app and a pair of trainers.
When will the music be available on BBC Sounds?
How long is Beethoven's Fifth Symphony?

It depends how fast the orchestra plays it! Most performances of the symphony last between 30 to 35 minutes. The BBC Philharmonic orchestra's performance on 13 March (now available as a download on BBC Sounds) lasted just over 30 minutes.

But don't worry if you don't want to complete the 5K within that time. It's much more important to run at a pace that suits you. By running for the entire performance length, you've taken on Beat Beethoven.
What if I haven't run 5K by the time the music ends?

Not a problem. Many people take longer than 30 minutes to run 5K. This isn't about the fastest time or winning a race – it's about having fun, getting active and raising money for a great cause.

If you're running the 5K in your own time, you can take on the challenge as many times as you like with our Beat Beethoven download from BBC Sounds.
Do I have to run?

No – you can run, jog, walk, dance, wheel or hopscotch your way to 5K!

The most important thing is to get active and raise money for Sport Relief, with the inspirational music of Beethoven as your soundtrack.
How long should I train for?

It depends on your level of fitness: everyone is different.

If you're starting from scratch, try Couch to 5K from BBC Get Inspired. This free smartphone app aims to get you off the couch and running in just a few weeks. Download it now for Apple and Android devices.
Where can I get help with fundraising?

You can set up your own Beat Beethoven giving page, and find tips and materials to help you fundraise on the Sport Relief website. Links to both are on this page.
How much of the ticket price will go to charity?

If you entered the live Beat Beethoven event on 13 March, £10 of the ticket price of each ticket will be donated to charity; the remainder covers the costs of the event. This included security, facilities and staffing costs such as medics.
Who is covering the costs for putting the event on?

Most of the event costs will be recouped through ticket sales. BBC Radio 3 will cover any remaining costs.
Who is Beethoven?

Ludwig van Beethoven was born exactly 250 years ago in Bonn, Germany. He was one of the most important and respected musicians of his time, and his influence is still felt today!

Beethoven's dramatic Fifth Symphony (the one that starts "da-da-da-DAH") is among his most famous compositions. It's also really fun and motivating music to run 5K to.

To find out more about Beethoven, head over to BBC Radio 3 where the composer's life and work is being celebrated throughout 2020 with a special season called Beethoven Unleashed.
Where does Beat Beethoven come from?

The first ever Beat Beethoven event is thought to have taken place in Canada in the mid-1980s, when the Edmonton Symphony Orchestra staged a Beethoven-themed run as a fundraiser.

Back then, runners had to Beat Beethoven by running 8K in just under 50 minutes. The music – an abridged version of Beethoven's Ninth Symphony – couldn't be piped around the entire course, so dozens of cars parked around the route blared it out through their stereos, while the orchestra's concert master stood on top of a phone booth and conducted the runners.

Since then, Beat Beethoven events have been staged all over the world, though they are still most popular in North America.
The BBC journalist and ultra-marathoner gives her five golden tips for newbie runners.