Main content
Two Minute Masterpiece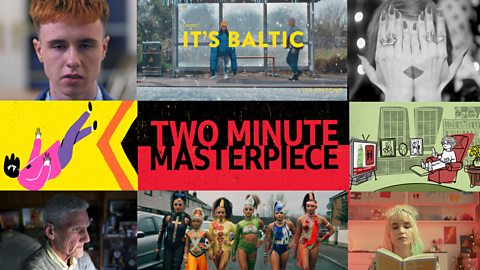 The search is on for emerging filmmaking talent in Northern Ireland.
Two Minute Masterpiece is back! In partnership with BBC Arts and Northern Ireland Screen, we want to give up to six emerging filmmakers the opportunity to create their own amazing two minute film that reflects their experience of living in Northern Ireland today.
This round is open to both male and female filmmakers and we particularly welcome ideas from people underrepresented in the industry. All genres of film will be considered. It could be a drama, a comedy, a documentary, a music video or an animation.
Chosen filmmakers will be paired with an industry mentor and given a production fund of £2000 towards realising their cinematic vision. These commissioned films are shown on various BBC platforms, with some potentially being screened on BBC Four.
Shortlisted candidates will be invited to an online pitching and mentorship session on Wednesday 14th October with NI filmmaker Glenn Leyburn (Good Vibrations, Ordinary Love). Candidates will then be invited to pitch digitally to a BBC NI commissioning panel on Friday 16th October. Final delivery of films is Friday 18th December.
Animation ideas will be pitched separately at the Digital Cities Virtual Festival on Thursday 22nd October.
Series five of Two Minute Masterpiece which is currently on BBC iPlayer, showcased emerging animation talent in Northern Ireland. Six films were commissioned based on the theme 'Connection'. Lockdown Blues, It Takes Two to Tango, The Draught, Rawr, No More Dead Friends, and Worlds Apart showcased the wonderful diverse range of talent and stories that Northern Ireland's animators wanted to tell.
GET INVOLVED
If you are an emerging filmmaker with a story to tell, we want to hear from you. Full details on how to enter can be found here.
Below is the timetable for this round - please only send an idea if you are available on these dates.
Submission is open from Monday 21st September 2020.
The closing date for receipt of entries is Friday 9th October 2020.
Shortlisted candidates will have an online pitching/mentorship session on Wednesday 14th October.
Candidates will pitch via Zoom to our commissioning panel on Friday 16th October.
Up to five filmmakers will be paired with an industry mentor and each awarded a £2000 production fund to make their film.
Animation entries will be invited to attend a series of workshops on 20th, 21st and 22nd of October as part Digital Cities Virtual 2020. Candidates will pitch their ideas and one animation will be commissioned.
Films must be delivered to us by Friday 18th December.
Edit, grade and dub will be scheduled between 11th - 22nd January 2021.
Please read the Terms and Conditions and Privacy Notice before entering