Main content
What is unclassified music?
Unclassified is a late night listening party, a place for curious ears to congregate, disconnect from all other devices and get lost in some soothing, serene and strange new sounds.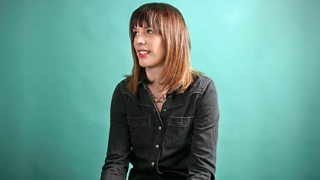 Unclassified presenter, Elizabeth Alker
It's a home for composers whose work cannot easily be categorised, artists who are as comfortable in a grimy basement venue as they are in a prestigious concert hall. Join Elizabeth Alker on this weekly journey through windswept and frozen Nordic landscapes, slow motion warehouse dance floors, the world of quirky art-house cinema and into some of the most prestigious concert halls on the planet.
Here, Elizabeth highlights five of her favourite 'unclassified' tracks…
I absolutely loved Daniel Avery's last record Song for Alpha, so was over the moon when he released a follow up album of B-sides and remixes. Any excuse to play his music on the show. Daniel is a composer and producer based in London and he describes Song for Alpha as 'machine music with a human heart'.
The remixes on this companion release really show off the precision and originality of his writing and production and they give us a slightly different experience of the melancholy, euphoria and dynamic and experimental spirit that is at the heart of his work. Daniel has drafted in some of the most exciting underground producers around alongside contemporaries such as Jon Hopkins and Four Tet, so it's a really thrilling and eclectic mix of sounds and styles.
Rafiq Bhatia – A Love That's True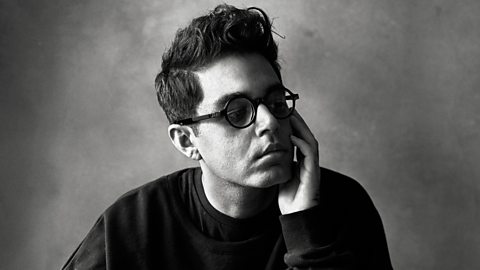 Hear a short clip of a track from the American musician's 2018 album Breaking English.
I saw Rafiq Bhatia's solo show for the first time at the excellent Big Ears festival in Tennessee this year. Rafiq is the first-generation American son of Muslim immigrant parents with ancestors in India and East Africa. He cites everyone from Jimi Hendrix to John Coltrane as his influences and he's recorded with the likes of Sufjan Stevens and the International Contemporary Ensemble.
His latest album Breaking English is a wild and wonderful mix of those influences and experiences. He says he's reaching for the emotional intensity of avant-garde jazz through sculptural electronic composition. His music manages to marry the busyness and vibrancy of jazz and the sparseness and sparkle of electronic music.
Caroline Shaw – Plan & Elevation V: The beech tree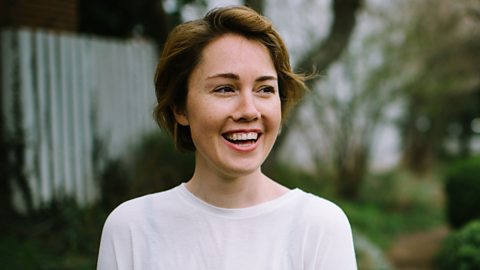 A short clip from the album Orange, performed by Attacca Quartet. Photo by Kait Moreno.
The American composer Caroline Shaw studied music at Yale, has worked with everyone from Kanye West to Nas, The Baltimore Symphony Orchestra and the American Contemporary Music Ensemble and she won the Pulitzer Prize for her composition Partita for 8 Voices.
Her first full album of work composed solely by her is called Orange and it's music she wrote specifically for the Attacca Quartet. Caroline has played violin since the age of two and been drawn to the string quartet for most of her life. She describes returning to that form as 'beautiful and ritualistic'. It's a record full of unexpected twists and turns, richly textured with really gorgeous soaring strings. It's yearning and urgent with quieter, more contemplative moments too. I was delighted to have the exclusive first play of my favourite track on the album, Plan and Elevation V The Beach Tree.
Elsewhere by Edmund Finnis and performed by Daniel Pioro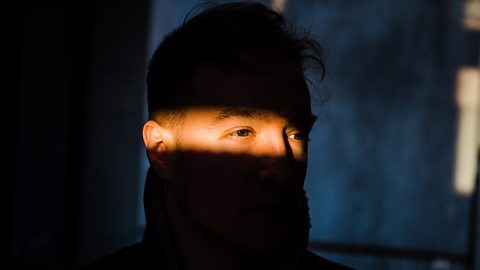 Listen to a short clip of Elsewhere, performed by violinst Daniel Pioro.
Edmund Finnis is one of the most interesting and exciting British composers around right now and Daniel is one of the most interesting and exciting performers I know, so this is a winning combination. The piece was written especially for Daniel's new album Dust, which is out now on the excellent Bedroom Community record label.
Finnis describes this piece as "cyclical patterns of sound moving in and out of focus, as if approaching from a distance before receding into haze." The tone of the violin is transformed from white noise through drifting pitch into glistening harmonics and back again. Lightly amplified reverb is used to extend the sounding space that the music inhabits. Our perspective on the music is altered. What we hear is simultaneously both in the room and seemingly elsewhere.
Outside of his work with The National, Bryce Dessner is an excellent composer of contemporary music. The LA Philharmonic, Kronos Quartet and the New York City Ballet have all commissioned him to write for them and he's also just recently contributed to Paul Simon's new album.
His new album El Chan is music written for two pianos and two guitars and it features performances by the Labèque sisters, Katia and Marielle. The work is dedicated to Dessner's friend and collaborator, the film director Alejandro Gonzalez Iñárritu. It was inspired by the mythical guardian spirit of a pool of water nestled in the canyons close to Iñarritu's hometown of San Miguel de Allende, Mexico. It's a place that has been the source of popular legends for many centuries. The music ducks and dives and shimmers and transports us to an epic open landscape as well as those quieter corners of the canyons.
Listen to Unclassified on Sunday's at 11pm on BBC Radio 3 until 19 May. The series will return on Thursdays at 11.30pm from 3 October 2019.
More from BBC Radio 3
Elizabeth Alker with music by an exciting new generation of unclassified composers and performers.

Saxophonist Jess Gillam is joined by a musical guest every week to swap tracks and share the music they love.

The best new music in live performance, plus new releases, features and interviews with composers and performers.