Main content
Vic's 25 Scottish Artists to Watch 2014
There's something for all the family in here... Indie, rock, electronica, experimentalism, pop, punk, acoustic singer-songwriters and everything in between. Now go and investigate!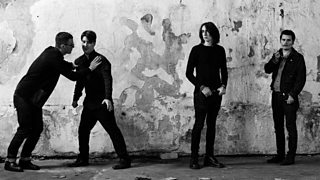 In alphabetical order:
1. Alphabetical Order Orchestra
2. Atom Tree
3. Baby Strange
4. Blitskald
5. Cain
6. Call To Mind
7. Casual Sex
8. Fridgemaster
10. Giant Fang
11. Halfrican
12. Laura St. Jude
13. Law
14. Leon T. Pearl
15. Model Aeroplanes
16. Nightwave
17. Prides
18. Sacred Paws
19. Teen Canteen
22. Turtle
23. Ubre Blanca
24. Vasquez
25. Vladimir
I'm also looking forward to new releases from Auntie Flo, Beerjacket, Fatherson, Holy Mountain, Honeyblood, Hudson Mohawke, James Yorkston, John Knox Sex Club, Jonnie Common, King Creosote, Meursault, Over the Wall, PAWS, Rustie, Siobhan Wilson, The Phantom Band, The Twilight Sad, The Xcerts, Twin Atlantic, We Were Promised Jetpacks, Withered Hand, Young Fathers and many others... 2013 was a big year for Scottish releases and I'm sure the twelve months ahead will be the same.
Enjoy this list, keep listening to the good stuff & all the best for 2014!
Vic xxx