Main content
David Smith & Mont Ventoux — the man and the mountain

Gold medal-winning Paralympian David Smith set himself the seemingly-impossible goal of cycling up one of the world's most notorious climbs, Mont Ventoux, three times in a day — and just six months after surgery.
The man
David Andrew Smith MBE from Aviemore took up Paralympic Rowing in 2009 after representing Great Britain in able-bodied Karate between 1993-1999 and Bobsleigh from 2002-2008. During this time, he also worked with the British Ski Teams as a national assistant coach.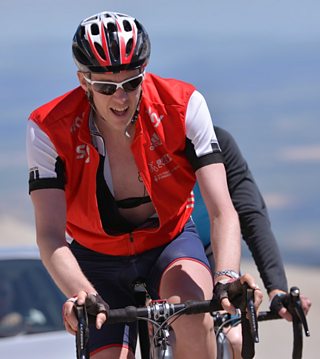 David Smith, cycling up Mont Ventoux
David was born with clubfoot and came close to having his right foot amputated at birth. After spending his first three years learning to walk in special boots and plaster casts, a career in Olympic sport seemed doubtful. However, that was just a hurdle he needed to get over and it was not going to hold him back.
Along with the sports that David competed in for team GB, he also competed in:-
Shinty, winning junior Scottish titles;
Skiing, where he raced in Austria, France and New Zealand; and
Athletics, where he won an East of Scotland 400m title.
After years of problems and missing out on the 2006 Winter Olympics by the smallest margin, a routine physio session discovered an abnormal reaction in his neck. Further tests were arranged which would lead to the discovery of a tumour which was crushing his spinal cord.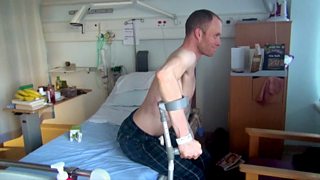 The surgery in May 2010 involved cutting into his spinal cord, removing three vertebrae, bypassing his voicebox and rebuilding his neck with metal cages and screws. After his first surgery to remove the tumour he then developed a blood clot and woke up completely paralysed. He was rushed back into hospital to undergo more life-saving surgery.
During a month in hospital where he had to learning to walk again, from his bed David started his rehab using only his mind, he visualised training and spent hours a day training his mind in the belief that it would have a positive effect on the body.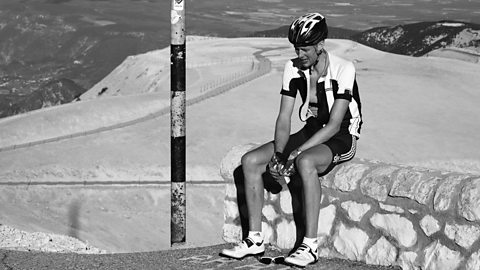 Gold medallist David Smith is diagnosed with a rare spinal tumour for a second time.
However, medical tests in 2014 showed that the tumour had returned and Dave was faced with more life-threatening surgery in November. Just over 5 months post-surgery David tackled the infamous Mont Ventoux in Provence – a cycling climb feared by even the pro cyclists on the Tour de France. Most who tackle this icon of cycling climb one of the three routes up the mountain. David being David wasn't content with just one assent – he attempted all three in a single day.
The mountain
Mont Ventoux in southern France is a mountain even pro cyclists fear and dread in equal measure. Choose any of the three routes to the summit, the start is easy – meandering through gentle wooded slopes, you could be forgiven for asking what all the fuss is about.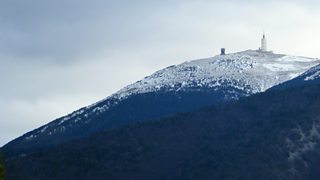 The Ventoux is a god of Evil, to which sacrifices must be made. It never forgives weakness and extracts an unfair tribute of suffering.

Roland Barthes, French philosopher
However, gradients soon top 12% and, on leaving the relative shade of the forest, the blistering sun and heat reflected from the almost white limestone, coupled with the almost constant wind soon starts to give the cyclists who travel from all over the world to challenge themselves against this feared cycling icon, an idea of where its fierce reputation comes from.
Tour de France
The Ventoux was added to the Tour de France in 1951 and has been used 15 times on 'Le Tour' since. Its already fearsome reputation was added to in the 1967 Tour de France when British cyclist Tom Simpson lost his life on the upper slopes of the summit. Simpson died of heat exhaustion and dehydration, although a combination of amphetamines and alcohol were later found in his system. There is a memorial to Simpson on the bleak bleached slopes just below the summit where he lost his life.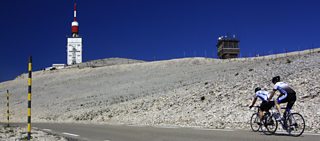 "Physically, the Ventoux is dreadful. Bald, it's the spirit of Dry: Its makes it a damned terrain, a testing place for heroes, something like a higher hell." — Roland Barthes
The Crazy Club
As demanding as it undoubtedly is, there is a far more severe Ventoux challenge – the Club des Cingles du Mont Ventoux.
cinglé m (feminine singular cinglée, masculine plural cinglés, feminine plural cinglées). Translated simply = (slang) nuts, bonkers, crazy.
'The Crazy Club' is a world renowned yet small group of those who have achieved one of cycling's undoubted Holy Grails – cycling ALL THREE routes up the infamous mountain – IN ONE DAY. A total of 138km distance and a total assent of over 4400 metres, it's not known as the Club of the Mad Men of Mont-Ventoux' for nothing!