Main content
Q&A with David Ames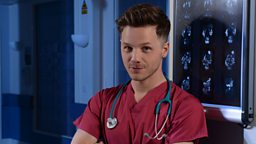 Welcome back! Did you miss playing Dom?
I definitely missed playing Dom. He's such an intriguing character. On one hand, he's so refreshingly open and honest. However, on the other hand, there is so much facade with him, so true. So much fun for an actor to play with.
What's Dom been up to while he's been away?
He skulked off with his tail between his legs after his inexperience and naivety got him in over his head with Malick. He's ready to try again and has focused on nothing but his career.
Has he really learnt his lesson, or is he still the same old Dom?
Dom got badly burned, damaging both his career and his emotions. He's definitely learned a valuable lesson. But it'll be interesting to see how he uses that experience to better himself for the future.
Would you trust him?
I like Dom. I think he's got some demons and he's definitely not predictable, but trustworthy? Hmm... I think the jury is still out on that one.
We've seen Arthur get upset about Dom's return – can they ever be friends?
Dom has a long way to go before Arthur even begins to consider them equals, let alone friends. Arthur is a faithful old Labrador. Dom is a scheming, cheeky little mongrel.
What's your off-screen relationship with Rob Ostlere (Arthur) like?
I adore the man. He's so professional, personable and funny. We have a really wonderful rapport which makes it so easy to work with him. A total pleasure for me.
What can we expect from Dom in the future?
It's all about being better. In every way, shape and form and he'll do whatever it takes to ensure that. Take that as you will.
Does he have his eye on any other Holby colleagues?
I think Dom has decided that dipping his pen in the company ink might not be beneficial to him right now...
What's the best thing about working on Holby City?
Holby is a family. A close knit network of creative teams. A fantastic pool of talent; actors, writers, producers, make-up artists, costumers, lighting designers... the list goes on! They're a total pleasure to work with, as it is to be considered one of them.
Holby City Q&As
Read (or watch) all our interviews and behind the scenes with the Holby cast and crew here...
Bob Barrett & Director Tracey Rooney on the challenge of filming those roof scenes

Rob Ostlere and the Holby production team look back at the much-loved character's exit.

Jemma Redgrave, Oliver Kent and Simon Harper on introducing Holby City's newest recruit.