Main content
Inside Scotland's busiest train station in 2020: 'Sometimes there was more pigeons than customers in the place!'
As we draw to the end of a year like no other Glasgow Central Station's 454 staff members reflect on how 2020 has changed so dramatically from normal life in Scotland's busiest station.
As the pandemic took hold this bustling station went from welcoming around 130,000 passengers through its doors every day to just a handful.
"Those initial weeks and months at the beginning of lockdown were quite spooky, you know it was eerily quiet sometimes there was more pigeons than there was customers in the place."
"I've been in the rail nearly 30 years and I've never known even Central to be really quiet. This station is usually absolutely heaving with people so then to come in and see it completely dead it, it was a big shock to the system."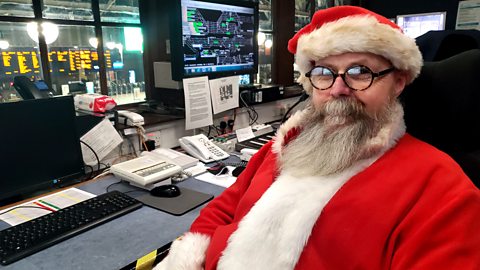 Inside Central Station at Christmas at a most extraordinary time.
Despite the huge challenges the station has remained open throughout. Like a fourth emergency service. Keeping the country moving at this crucial time.
"Usually the station is just full of Christmas shoppers it will be quieter but we'll do our best to make sure people remember Christmas in Glasgow Central Station. I will definitely be making more of an effort I think this year just spread some Christmas cheer."
At the end of this extraordinary year It's nice to know that Christmas is still here. "It's nice just to bring a bit of joy and a bit of fun. We are trying our very best to keep the festive cheer going."
From everyone at the station, "Have a fabulous Christmas and a very prosperous and very healthy 2021."
Watch Inside Central Station on iPlayer.
Latest features from BBC Scotland