Main content
Dua Lipa gives her verdict on that BBC News remix
"Well, it's a bop, as it were."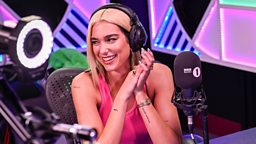 When Ben Howell remixed the BBC News theme with Dua Lipa's 'Hallucinate', he didn't expect to become an item on the actual news.
Ben tweeted the remix on Monday, and it's fair to say it escalated quickly after it was picked up by Radio 1's Breakfast Show. The following day he was on BBC News being asked by Simon McCoy: "You've got Dua Lipa watching right now, do you need to apologise to her?".
But Dua has dubbed the remix a certified "bop, as it were" when speaking to Greg James, and she said it brightened up lockdown life. BBC News even caved in and used it.
If you haven't heard it already, first off, where have you been? And you better get on it below because it's guaranteed to make your day just that little bit better.
Dua Lipa tweeted her seal of approval, so it only seemed right that it came full circle, and Ben chatted to her on Radio 1 this morning (Thurs 30 April).
It was the surreal end to the week for the self-confessed Dua Lipa superfan.
Speaking on the Breakfast Show, Ben said: "I'm so humbled to get to speak to you. I'm a massive, massive, fan and thank you for the building blocks for this nonsense."
The official review from Dua? "Well, it's a bop, as it were".
Naturally Greg had to ask whether the BBC News theme was the inspiration for 'Hallucinate'.
The singer joked: "You're going to have to ask [producer] SG Lewis. He commented under the post on my Instagram, saying 'I've been exposed!"
Ben, who has been furloughed due to the COVID-19 crisis, was listening to the singer's new album 'Future Nostalgia' when it struck him that it'd be perfect for a news theme remix.
Speaking to Simon McCoy on BBC News, he said: "In furlough, I think everyone has a lot more time on their hands to sit and ponder strange things like this."
"It's become a running joke between my friends that if the song [the BBC news theme] is heard at a party, it is probably me that queued it, because it is a bop. This started as an idea to mix in something contemporary with it and see if I could maybe get away with playing it more often."
Ben hinted on BBC News that he could release a DIY mix kit on Twitter, saying he might "record the beeps alone and put that on Twitter as a make-your-own remix kit."
We have a feeling this is just the beginning...
You can watch Greg James and Ben Howell talking about the remix to Simon McCoy below.