Main content
Meet the mother of chimps
Mimi Swift is a scientist who has spent many years working at the Sanaga-Yong Chimpanzee Rescue Centre in Cameroon, helping to rehabilitate chimpanzees, including one special young orphan...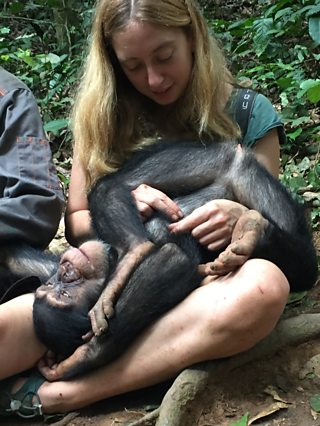 Picture of Kimbang and Mimi © Hannah Ward
Kimbang means 'White one' in the local language.
"I first worked with chimpanzees in Africa when I was 15 years old, and I have been going back ever since, working and volunteering for different projects and now conducting my own research.
When I first met Kimbang back in 2015 she was skinny, pale and spent her time rocking back and forth. The sadness in her eyes from the loss of her mother was heart-breaking, but over time she has gained a sparkle to her eyes that is unlike any other chimp I've worked with."
Mimi became curious about what the animals were doing up in the trees, out of sight. The Animals With Cameras team provided an unusual opportunity for the rescue centre. Attaching small cameras to the chimpanzees, they could now follow them into the canopy.The chimps would capture a brand new perspective for the carers, and be able to demonstrate if they were learning all the skills they needed to survive in the wild.
After easily dismantling and destroying a few of the bespoke camera set-ups, finally a chimp-proof system started to capture footage.
"Being a surrogate mother to Kimbang and other chimpanzees is one of the hardest and most rewarding jobs in the world, and that's without getting cameras involved!
The first time that I saw their world from the trees it brought tears to my eyes. In many ways they are so similar to us, yet their world in the canopy is a curious wonderland. Gosh, I wish I could climb like Kimbang!"
The cameras revealed behaviour high in the canopy that was impossible to witness from the ground. Sure enough Kimbang was on the road to recovery, displaying vital skills like feeding, nest building and predator avoidance.
"I am so proud of Kimbang, who is going to be moving in with a whole group of chimpanzees this year.
They will finally have a real chimpanzee mother, a chimpanzee family and their own forest to explore together."
More from the humans who gave the animals their cameras