Main content
Defeat your Revision Enemies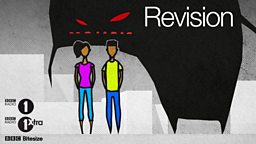 Don't let The Fear, The Fog, or The Cram get to you...
We're here to help you prepare and focus ahead of those looming exams.
Knowing WHAT to revise usually comes from the curriculum, but learning HOW to revise isn't always so clear-cut.
The below videos have been made to help you battle The Fear, The Fog and The Cram.
Greg James, Charlie Sloth, Clara Amfo and MistaJam are out to improve your memory, stop you from overloading and help you beat exam stress - to make sure you're exam-ready.
More to help overcome exam stress
More to help improve your memory
More to help you stop procrastinating