Main content
Why Music Object Spotlight
As Radio 3 takes up residence at Wellcome Collection in London to explore what makes music a vital part of being human, comedian and actor, Gryff Rhys Jones explores a history of health through objects on display.
Pohl Omniskop X-Ray Machine
Made in Kiel, Germany, 1925-1935.
X-rays were discovered by Wilhelm Conrad Röntgen on the 8th of November 1895
This omniscope is over two metres tall and the patient was strapped in the middle, so the doctor could rotate the x-ray around them, taking individual snapshots
It was owned by German Jewish doctor Ernst Rachwalsky, who worked in Berlin in the 1920s and specialised in stomach problems
The machine was imported to the UK when Ernst emigrated after life became increasingly dangerous for Jewish people in Germany following the rise of the Nazi Party
Ernst used it until his retirement in 1962.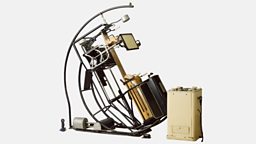 Image: Science Museum, London
Listen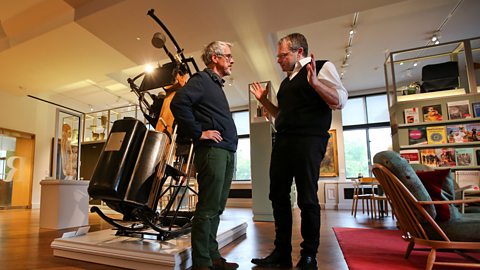 Gryff Rhys Jones and Simon Chaplin discuss an early 20th century X-ray machine.
This is one of five objects explored as part of Why Music a partnership between BBC Radio 3 and Wellcome Collection.