Main content
How David Bowie and life in Glasgow inspired Twin Atlantic's huge new single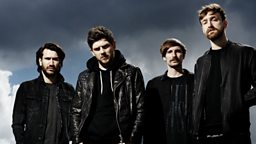 Credit: Steve Gullick
Twin Atlantic have dropped their enormous new single, The Chaser, and it has a very different flavour to their previous releases.
The band are currently ruling the airwaves with No Sleep, on which they sound heavier than they have in years.
But when Twin Atlantic were writing and recording The Chaser, frontman Sam McTrusty reveals the boys' love for Glam Rock emerged and helped them shape this brand new anthem.
"We were in the middle of trying to make a genuine, authentic representation of being from Glasgow, trying to find our place in music and our identity," Sam tells Radio 1 online.
It just felt important that we show the fun side of where we're from

Sam McTrusty
"We got a little bit through the record, we realised we had all been brought up on Glam Rock.
"We started going back through why we were in a band, why were playing guitar, all the moments we grew up with and there was a lot of David Bowie and early Glam Rock."
"It was such a big part of our upbringing in this city. We all used to go mad for T-Rex."
"It started to remind me of going on a bit of a bender at night or on a weekend. It just felt important that we show the fun side of where we're from."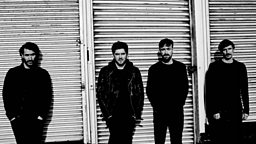 Credit: Steve Gullick
It's obvious, from the first listen to The Chaser, that Twin Atlantic had a lot of fun recording the track for their fourth album, GLA.
Sam tells us the band were 'addicted' to the song from day one and worked tirelessly to share that feeling with fans.
"Every little piece we added to it, it became more addictive," he says.
"There's a big gang vocal at the start of the song and we couldn't get it out of our heads and that's usually a sign that people are going to want to sing along to it.
"Then we started amping up the song more and more addictive, we can definitely picture people losing their minds to this in a live setting."
No Sleep was released as the band's lead single from GLA to showcase their "no nonsense" approach to the new record, while The Chaser was picked to represent the flipside of both the band and their hometown.
We can definitely picture people losing their minds to this in a live setting
"We wanted to represent the other side of the record just before it comes out," he says. "They are starkly different songs.
"You can come across that quite easily when you are from this city, in our personalities. It can switch really quickly. It felt like a really nice way to represent the attitude and boldness and why we chose to name our new album after this city."
Warning: Third party video may contain adverts
Sam has previously revealed the band felt they 'lost their way' recording their 2014 album Great Divide, but says they were on the best form of their career recording GLA.
"We were just totally acting on instinct and making music we wanted to hear, that made us feel alive and excited," he tells us.
"Nine times out of ten, if you go with that gut feeling, you don't have to worry too much if it's a risk because you made it for the right reasons. You weren't trying to impress someone or live up to your fans' expectations."
And that's something Sam admits they have tried before and quickly learned from.
"If you start worrying about all that stuff you can get lost quite quickly, we've realised and learned from experience.
"So bring on the risk, we enjoy risk taking."
The lads took part in the big reveal for Live Lounge month where all the performing acts tweeted a letter to spell out 'Live Lounge Month'.
Tune in Monday 26 September to hear the band do their thing and catch other huge artists like Usher, Clean Bandit, The 1975, Justin Bieber and loads more from the 1 September.
No Sleep and The Chaser are out now. GLA is released on 9 September 2016.
Biffy Clyro chat to R1 online to dish the dirt on their massive new single

Usher and loads more celebs are tweeting random letters on Twitter. Find out why.