Main content
Monet in the city: A rarely-seen side of the great Impressionist
3 April 2018
New exhibition Monet & Architecture brings together 78 works by one of the world's greatest ever painters, including 19 rarely seen pieces from private collections. WILLIAM COOK explores this showcase of the French Impressionist's cityscapes at The National Gallery.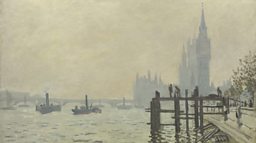 Claude Monet, The Houses of Parliament, Fog Effect (Le Parlement, effet de brouillard), 1904 | © Collection of the Museum of Fine Arts, St. Petersburg, FL Museum purchase and partial gift of Charles and Margaret Stevenson Henderson 1979.5
It's more than 20 years since the last Monet show in London. Monet & Architecture promises to make up for lost time with 78 paintings from all around the world – 19 from private collections, rarely loaned and rarely shown. This is a rare chance to see some of Monet's lesser known masterpieces, as well as many of his greatest hits.
Although his artwork was adventurous, he was no Bear Grylls.
But why Monet and Architecture? Isn't Monet famous as a landscape painter? His garden at Giverny is his most celebrated subject.
Why ignore his water lilies and focus on his cityscapes? Because the father of Impressionism didn't just paint pretty pictures of wild flowers. His main subject was the manmade. After all, there was nothing natural about Giverny.
Monet made his name painting outdoors – "en plein air" as art critics call it. Painting on the spot, rather than in the studio, gave his paintings their vital, naturalistic style.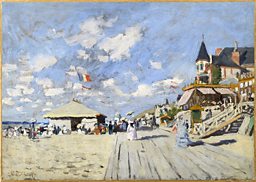 Claude Monet, On the Boardwalk at Trouville (Sur les Planches de Trouville), 1870 | Private collection, Milan. Courtesy of the owner
Yet although his artwork was adventurous, he was no Bear Grylls. His fields and streams were suburban rather than rural – the sort of places you might visit on a Sunday afternoon stroll.
These earlier works remind us that he lived through a time of frenetic and traumatic change.
"Monet's use of buildings and architecture is very varied," says the show's curator, Richard Thomson, Watson Gordon Professor of Fine Art at Edinburgh University.

"He used architecture to convey his ideas about modernity." But that wasn't all. He also used buildings as mirrors, to convey the play of light, and as focal points for his pastoral scenes.

"It's deepened my admiration for him as an artist," says Thomson, of curating this show. "He makes objects and forms fit. They have their right weight in a painting, and they interlock, one with the other."

This exhibition is in three parts: The Village & the Picturesque, The City & the Modern, and The Monument & the Mysterious. The Village & the Picturesque focuses on semi-rural scenes in his native France. These paintings are wonderful (did Monet ever paint an uninteresting or unattractive picture?), but in The City & the Modern we see another side of Monet.
After some striking views of his hometown, Le Havre, and the nearby seaside town of Trouville, we arrive at Argenteuil, the Parisian suburb where he made his home. Monet's Paris is a restless place, ploughed up by new roads and railways.
His later paintings, in Giverny, feel like havens of serenity. These earlier works remind us that he lived through a time of frenetic and traumatic change.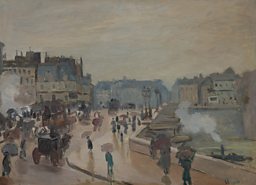 Claude Monet, The Pont Neuf (Le Pont Neuf), 1871 | © Dallas Museum of Art The Wendy and Emery Reves Collection 1985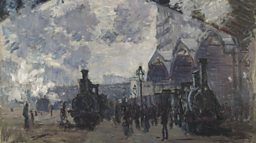 Claude Monet, The Saint-Lazare Railway Station (La Gare Saint-Lazare), 1877 | © The National Gallery, London
The most violent upheaval of Monet's life was the Franco-Prussian War of 1870-71, which forced him to flee to London. France's loss was Britain's gain. Here in the Big Smoke he painted some of his most iconic pictures, including Impression Sunrise, which gave Impressionism its name.
What Monet loved about London was its filthy smog
Walking along the Embankment, from Waterloo Bridge to Charing Cross Bridge, it's remarkable how little Monet's London has changed. Only the odd skyscraper spoils the view.
His moody depictions of the Houses of Parliament are full of grandeur and foreboding. You can see three of them in this show – from as far afield as Lille, Zurich and St Petersburg.
What Monet loved about London was its filthy smog, which cloaked its buildings in a fog of shifting hues. "The Thames was simply golden," he wrote, in 1900. "God, it was beautiful – so good that I went to work in a frenzy, following the sun and its reflections on the water." Pollution was a curse for Londoners, but for Monet it was an asset. All that soot and smoke created a kaleidoscope of colour, an Impressionist's nirvana.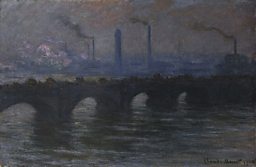 Claude Monet, Waterloo Bridge, Overcast Weather (Waterloo Bridge, temps couvert), 1899-1903 | © Dublin City Gallery The Hugh Lane
However, Monet's greatest architectural project was his series of paintings of Rouen Cathedral. "There's a tremendous visual sensuality to the paintings," says Thomson. It was here that his unique relationship with architecture reached its zenith. "Other painters paint a bridge, a house, a boat," wrote Monet. "I want to paint the air that surrounds the bridge, the house, the boat – the beauty of the light in which they exist.' His Rouen Cathedral was like a cliff face, a force of nature, a blank canvas. "Everything changes, even stone," he said. "I want to paint architecture without its features."
The exhibition ends in Venice, a place that enchanted him, with nine dreamlike pictures, all painted in 1908. "When he went, he didn't expect to paint very much – but once he got started, he couldn't stop," says Thomson. Here in Venice, nature and architecture come together, as these "bruised, disfigured and discoloured" buildings (as Henry James described them) reflect the changing colours of the surrounding water. For Monet, there were no landscapes or cityscapes – only colour, light and shade.
"When you go out to paint, try to forget what objects you have before you," he said. "Merely think, here is a little square of blue, here an oblong of pink, here a streak of yellow, and paint it just as it looks to you." I've never heard a better description of the way one ought to paint.
The Credit Suisse Exhibition: Monet & Architecture is at The National Gallery, London from Monday 9 April to Sunday 29 July 2018.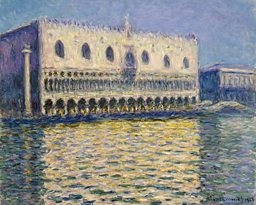 Claude Monet The Doge's Palace (Le Palais ducal), 1908 | © Brooklyn Museum of Art, New York Gift of A. Augustus Healy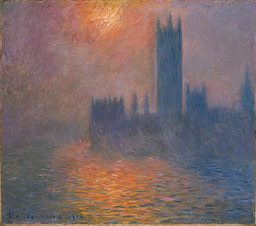 Claude Monet Houses of Parliament, Sunset (Le Parlement, coucher de soleil), 1900-1 | © Kunsthaus Zürich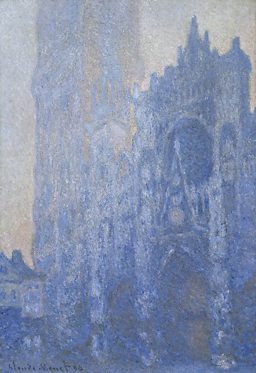 Claude Monet, Rouen Cathedral. The Portal and the Tour d'Albane at Dawn (Cathédrale de Rouen. Le Portail et la tour d'Albane à l'aube), 1893-4 | © Museum of Fine Arts, Boston Tompkins Collection - Arthur Gordon Tompkins Fund 24.6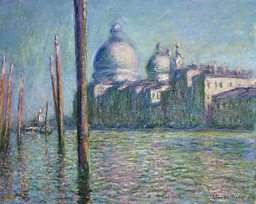 Claude Monet, The Grand Canal (Le Grand Canal), 1908 | Nahmad Collection, Monaco. Courtesy of the owner
Arts highlights on BBC iPlayer
Watch 12 mesmerising performances from Dancing Nation, a sampler of UK dance in all its forms.

Chizzy Akudolu presents a new collection of dramatic short films.

The Oscar-nominated actress gives a singing masterclass.