Main content
Lambert & Stamp: The men who made The Who
15 May 2015
One was the son of a composer, the other was a movie star's brother. Together Kit Lambert and Chris Stamp discovered, filmed, inspired and pushed The Who to ever greater heights. ALASTAIR McKAY considers their mercurial careers and a new documentary on rock's odd couple, Lambert & Stamp.

Stamp, Townshend & Lambert
Somewhere in the ghostly margins of Lambert and Stamp, there is a brilliant film about a 1960s rock'n'roll band. The film is stylish and jagged, taking its manners from Jean Luc Godard and la nouvelle vague, but it captures the fashions of a select corner of swinging London.
It is a strange kind of film, almost as bizarre as the band it documents. That group, now known as The Who, but then operating as the High Numbers, were a combustible art project, too ugly to be famous, and too full of contradictions to survive.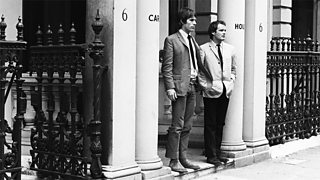 So I had the idea that (pop music) would deliberately blow itself up

Pete Townshend
The guitarist, Pete Townshend, was at art school, and the other three had jobs. The singer, Roger Daltrey, was a factory worker who was in the habit of settling arguments with his fists.
Some of those arguments were with the drummer, Keith Moon, who was nobody's idea of a conventional musician. The bass player, John Entwistle, worked in the tax office.
That film was never completed, more's the pity, though James D Cooper's documentary does include tantalising fragments of it, along with interviews from a French documentary about The Who and the accompanying mod movement, offering a reminder of a time when rock'n'roll was still writing its own mythology.
In the case of The Who, as Townshend observes, that meant exploring the genre's built-in obsolescence. At the start of the group's career, he notes, everyone believed that pop music was going through phases, none of which would last long.
"So I had the idea that it would deliberately blow itself up."
A traditional rock documentary might explore that thought, and show how The Who channeled Townshend's destructive urges over decades, despite his feeling that he would be doing something else - something more valuable - within a couple of years.

Chris Stamp & Kit Lambert at the offices of Track Records in Soho | Getty Images
Cooper's film does follow their development from an energetic pub band - all sideburns and sunglasses and Rickenbackers - to the point where they become financially successful by over-reaching, taking Tommy on a tour of the world's opera houses.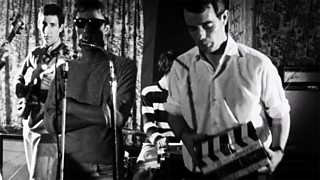 We were both marginalised, me in my class, he in his gayness

Chris Stamp
It's also about the way creativity and artifice can be exploited and developed.
It tells the story of The Who's managers, Kit Lambert and Chris Stamp, and the way they fell into management by accident, having first had the idea of making a cinéma vérité film about a rock'n'roll group as a means of breaking into the movie business.
Lambert had some film experience, while Stamp was a jazz lover and cineaste who had suffered a breakdown and decided to do something artistic with his life.
Lambert was gay, at a time when that was illegal, and Stamp was the working class son of a tugboat captain.
"We were both marginalised," says Stamp, "me in my class, he in his gayness."
Chris's brother, the actor Terence Stamp, was able to help with money on the occasions when the pair's financial bravado let them down.
"They complemented each other," says Terence, "like two and two makes six."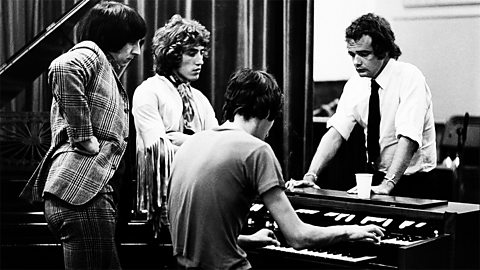 Pete Townshend describes how Kit Lambert influenced his songwriting
Townshend and Daltrey are also on hand to offer generous tributes to their mentors.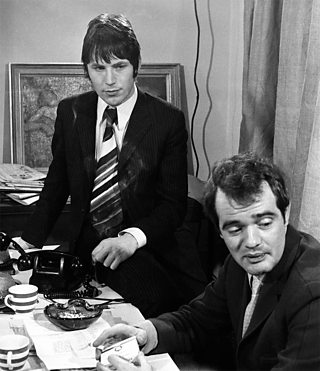 Chris Stamp and Kit Lambert at the offices of Track Records in Soho
Perhaps the genius of Lambert and Stamp was to understand how rock'n'roll was a trick mirror, capable of making misfits of everyone
"They formed the shell of the egg that we know as The Who," says Daltrey.
Townshend is more specific, explaining how Lambert and Stamp shaped both the group and its audience through inventive marketing which mirrored Townshend's art training.
For The Who, the audience was the patron.
"Kit and Chris took it further," Townshend says. "They're not just the patron, they're the essence. You don't market to them. You market them."
Lambert also brought eclectic musical influences to bear. The son of the composer Constant Lambert, he talked to Townshend about song construction, and buoyed his belief that he could be a composer, and not just a songwriter.
He introduced Townshend to Purcell, which influenced the chordal structure of The Kids Are Alright.
In the studio, Stamp also mucked in.
The Who's anthem, My Generation, was conceived as a 16-bar Jimmy Reed-style blues, but Stamp suggested the addition of a stammer to the lead vocal, implying that the character in the song was blocked-up on pills.
Lambert's encouragement gave Townshend the confidence to write Tommy, and it's here that the disagreements start.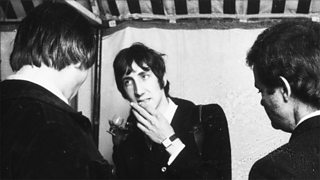 Pete Townshend with Lambert and Stamp
Lambert steered Tommy away from its original concept - a product of Townshend's interest in Sufism - into a story about postwar life.
But Townshend balked at allowing Lambert to produce and direct the film. After that, a schism developed between the group and their managers, so Lambert and Stamp never did get to make their movie. Lambert died in 1981, after falling down some stairs.
Stamp died in 2012, but at least he participated in Cooper's film, which does much to soothe the recriminations and resentments which grew up over the decades.
"They were outsiders, man," Stamp says of The Who. "They were misfits."
Perhaps the genius of Lambert and Stamp was to understand how rock'n'roll was a trick mirror, capable of making misfits of everyone.
Lambert and Stamp is in cinemas from 15 May, 2015.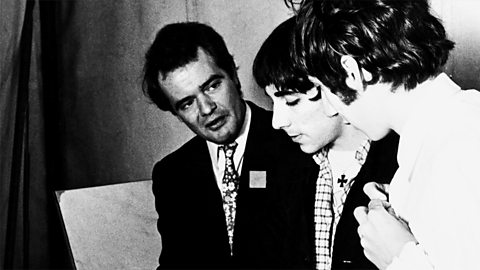 Pete Townshend on hard times musically for The Who and the subsequent triumph of Tommy

Keith Moon, Pete Townshend and Kit Lambert | Getty Images