Main content
The 2018 Finalists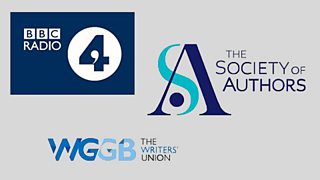 The finalists for the BBC Audio Drama Awards 2018 have been revealed, with Dangerous Visions, Home Front and Midnight's Children all featuring in the line-up. The winners will be announced at a ceremony in the Radio Theatre at BBC Broadcasting House, London, on the evening of Sunday 28 January 2018. Music will be provided by the Dodge Brothers.
The BBC Audio Drama Awards – presented by the BBC together with the Society of Authors and the Writers' Guild of Great Britain – celebrate the range, originality and cut-through quality of audio drama on air and online and give recognition to the creativity of actors, writers, producers, sound designers and others who work in this genre.
Each category is judged by a team of industry experts including actors Ruth Jones and Paterson Joseph, Newsnight presenter Emily Maitlis, and writer David Eldridge. Now in their seventh year, the Audio Drama Awards have previously recognised such luminaries and programmes as Bill Nighy, Neil Gaiman, June Whitfield and The Archers.
Best Single Drama
Dangerous Visions: Culture by Al Smith, producer Sally Avens, BBC Radio Drama London
The Music Lesson by Hannah Silva, producer Melanie Harris, Sparklab Productions
The Red by Marcus Brigstocke, producer Caroline Raphael, Pier Productions
Best Audio Drama (Series or Serial)
Black Eyed Girls by Katie Hims, producer Sasha Yevtushenko, BBC Radio Drama London
Dangerous Visions: Resistance by Val McDermid, producer Sue Roberts, BBC Radio Drama North
Home Front by Katie Hims and Sarah Daniels, producer Jessica Dromgoole, BBC Radio Drama Birmingham
Best Adaptation
A Clockwork Orange by Anthony Burgess, producer Gary Brown, BBC Radio Drama North
Midnight's Children by Salman Rushdie, adapted by Ayeesha Menon, producers Tracey Neale and Emma Harding, BBC Radio Drama London
Terrible Beauty by Gerald Doyle, adapted and produced by Bernard Clarke, RTE Lyric FM
Best Actor
Paapa Essiedu, Wide Open Spaces
John Hurt, The Invisible Man Chapter 1
Nikesh Patel, Midnight's Children
Best Actress
Christine Bottomley, Solitary
Anastasia Hille, Long Day's Journey into Night
Julia McKenzie, John Finnemore's Double Acts: Mercy Dash
Best Supporting Actor/Actress
Roger Allam, The Government Inspector
Amelia Bullmore, The Beard
Rupert Evans, Long Day's Journey into Night
Best Debut Performance
Andrew Leung, Prime Cut
Kate Phillips, Gudrun's Saga
Sabrina Sandhu, Black Eyed Girls
Best Use of Sound
Dangerous Visions: Kafka's Metamorphosis, sound by Nigel Lewis, producer James Robinson, BBC Cymru Wales
Midnight's Children, sound by Peter Ringrose, Anne Bunting, Jenni Burnett, producers Tracey Neale and Emma Harding, BBC Radio Drama London
War of the Worlds, sound by Cal Knightley, Mike Etherden, Alison Craig, producer Marc Beeby, BBC Radio Drama London
Best Scripted Comedy (Longform)
Liam Williams: Ladhood by Liam Williams, producer Joseph Nunnery, BBC Studios
The Penny Dreadfuls Present: Le Carre on Spying by David Reed, producer Julia McKenzie, BBC Studios
Sarah Kendall: Australian Trilogy by Sarah Kendall, producer Carl Cooper, BBC Studios
Best Scripted Comedy (Sketch Show)
The Absolutely Radio Show by Morwenna Banks, Pete Baikie, Moray Hunter, Gordon Kennedy and John Sparkes, producers Gordon Kennedy and Gus Beattie, an Absolutely Gusman Production
Harry and Paul Present: The Gentlemen's Club by Harry Enfield and Paul Whitehouse, producer Sam Bryant, BBC Studios
It's Jocelyn by Jocelyn Jee Esien, Liam Beirn, Laura Major, Tom Coles, Ed Amsden and Sarah Campbell, producer Suzy Grant, BBC Studios
Best Online/Podcast Only
Can't Get You Out Of My Head, written by Charlotte Bogard MacLeod, producer David Hunter (BBC Online)
Inside Donald Trump, producers Claire Broughton and Andy Hamilton (Hat Trick Productions/Unbound, podcast on Soundcloud and iTunes)
Rathband: A Digital Tragedy, producers Jeremy Mortimer and John Wakefield, podcast on iTunes etc
Imison Award for Best Audio Drama Script by a New Writer
Judges: Stefan Buczacki, Jamila Gavin, Isla Gray, Catherine Johnson, Christopher William Hill, Nell Leyshon, David Morley, Hilary Robinson, Mike Walker and Elizabeth-Anne Wheal
Adam Usden for The Book of Yehudit
Jane Wainwright for Wide Open Spaces
Tinniswood Award for Best Audio Drama Script
Judges: Hardeep Singh Kohli, Colin Teevan and Jane Thynne
David Eldridge for Jenny Lomas
John Finnemore for Double Acts: Penguin Diplomacy
Sarah Woods for Borderland
Drama and Storytelling on Radio 4
Find details of Drama and Literature programmes to listen to now on Radio 4.