Main content
Dealing With Grief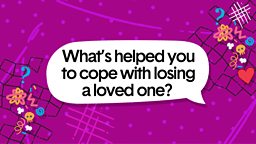 Grief is a combination of the emotional and psychological effects of losing someone. The process of grief is about going through lots of different stages of emotion – such as anger, sadness, even guilt. Grief can be in relation to a situation or a circumstance as well as a person – it's the process of mourning a loss.
There's no time limit
There is no timescale for the process of grief; it's different for every person. The main thing to do if you're grieving is to make sure you're doing what feels right for you, and to take it one day at a time. Don't tell yourself you should or shouldn't be feeling a certain way, or put a timeframe on 'being ok'. Just be patient with yourself and acknowledge that your process will be unique to you.
The pain of losing that person may never go away, but it can get less over time. Grief may eventually mean celebrating the life that your loved one had, and to remember all the wonderful things about that person and cherish the memories you do have. That's not to say you won't feel sadness about it, too.
Rely on others
It's very important to have a support network around you. Allow yourself to tell others that you're not doing great. It's ok to ask for help and you mustn't feel ashamed, or that you shouldn't talk about how you're feeling. If you don't want to talk about it (and that's perfectly ok if you're not ready), it may be that you rely on your friends and family to take your mind off things by keeping you busy or planning days out. Whatever you need, they will understand that you're going through a difficult time and will want to help in any way that works for you.
Counselling may be another option to explore if you're feeling lost – your doctor will be able to advise, so make an appointment with your GP if things feel really difficult.
We asked you to share your experiences of dealing with grief, in the hope of offering comfort to others. Join in the conversation over on our forum at The Student Room.