Main content
Fraisier style fruit cake
Sponge: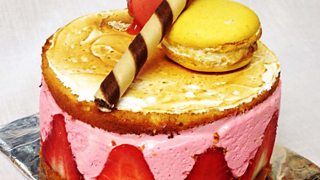 3 eggs
100g caster sugar
1 tsp vanilla extract
100g plain flour
Mousse:
225g fruit puree
3 gelatine leaves
225g Greek yogurt
85g caster sugar
2 egg whites
Decration:
Fresh strawberries, sliced in half
2 egg whites
35g caster sugar
How to do it:
1. Preheat the oven to 200°C/180°C fan. Line the base of a 6inch/15cm round tin with baking paper.
2. Beat the whole eggs and sugar together on full speed for at least 5 minutes until very thick and pale. Add in the vanilla extract and beat for a few seconds more. It is ready when the mixture 'ribbons' on the surface when drizzled from the beaters.
3. Add a pinch of salt to the flour then sift half over the egg mix and start to fold in gently until evenly mixed. Sift the rest of the sugar over and fold together until no flour is visible.
4. Pour into the prepared tin, tap on the surface a few times to remove air bubbles then bake for 15-20 minutes or until a skewer comes out clean. Cool on a wire rack.
5. For the puree; place the gelatine leaves into a bowl of water and leave for 10 minutes. Heat ½ the puree in a pan for 2 minutes. Squeeze out the water from the gelatine leaves and mix into the warm puree until dissolved completely. Add in the remaining puree.
6. Meanwhile beat the egg whites until soft peaks then start to add the sugar and continue to beat until stiff. Mix the yogurt with the puree then fold in the meringue mix.
7. To assemble slice the cake in two. Line the cake tin with some cling film and place half of the cake at the bottom. Arrange the strawberries, cut side facing out, around the edge of the inside of the cake pan. Pour over the mousse until it just covers the top of the strawberries. Top with the other half of the cake. Put into the fridge for the mousse to set for at least two hours.
8. Follow step 6 to make a meringue with the remaining ingredients and use a knife to spread over the top of the cake. Either use a kitchen blowtorch or place under a hot grill for a few minutes to colour the meringue.