Main content
Shot and crucified: The extreme art of Chris Burden
3 May 2017
Infamously, performance artist Chris Burden asked someone to shoot him in a gallery. Another time he was nailed to the roof of a VW Beetle. Later he'd create sculptures of ingenuity and beauty. ALASTAIR McKAY considers the influential artist who is celebrated in a new documentary, Burden.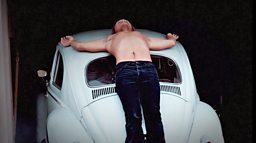 Chris Burden, Trans-Fixed, 23 April, 1974 at Speedway Avenue in Venice, California
When he first attained notoriety, the artist Chris Burden found himself being compared to Evel Knievel, the showman who liked to leap over buses and into canyons on his motorcycle. It wasn't a comparison he craved. Burden was described as an art martyr, a daredevil. But Knievel was a trickster, the artist said, "I'm not a trickster. Everything I do is for real."
For real: "crucified" on a Volkswagen Beetle; being shot; crawling through broken glass; living in a locker for five days
Burden was certainly uncompromising, and his exploits were celebrated in David Bowie's song Joe The Lion, with its refrain of 'Nail me to my car and I'll tell you who you are," a reference to the time Burden was "crucified" on the back of a Volkswagen Beetle.
Burden explained that work to Roger Ebert in 1975. "I was standing on the rear bumper of a VW bug, nailed to the roof of the car through the palms of my hands. The car was inside a garage, and the spectators were outside. The garage doors opened, and the VW was pushed halfway out, with the engine in neutral. It ran at full blast, making a screaming noise. Then the ignition was turned off, the car was pulled back into the garage and the doors were closed. To the spectators, it was well, sort of an apparition."
On one level, the Boston-born artist's work seems to be an argument about the nature of art. Among the other things he did for real: being shot; lying for days in a gallery beneath a sheet of glass; and - perhaps the least Knievel-like stunt possible, his 1971 work, Disappearing, in which he did just that, but with no fanfare, no magic cabinet, no conscious audience.
The piece lasted three days, during which time Burden checked into a motel and did nothing. "I didn't feel I could do anything," he told Ebert. "I didn't read, or eat or even watch television. How could I, when I'd disappeared?"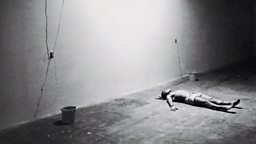 Still from Doorway to Heaven, 1973 in the documentary Burden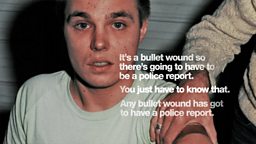 Still from Shoot, 1971 in the documentary Burden
The shooting piece happened in 1971, and didn't go as planned. The idea - inspired by the nightly shooting of young men on the TV news in Vietnam - was that Burden would be shot by his friend, Bruce Dunlap, a trained marksman.
The bullet was supposed to graze Burden's arm, producing a single drop of blood. But at the crucial moment, either the shooter or the artist tensed up slightly, and the .22 bullet passed through Burden's arm. There was no first aid kit in the room, and no bandages, so they had to seek medical help, and then report the shooting to the police.
At the time, Burden's idea was that the act of doing something was the art, a concept which also meant the artwork couldn't be bought or sold. He subsequently suggested that these active works were an attempt to control fate, or at least give the illusion that such a thing was possible.
Burden died in 2015, at the age of 69, and Tim Marrinan and Richard Dewey's documentary, Burden, offers a satisfying examination of his motivations. The artist is interviewed towards the end of his life, and cuts a placid figure, pacing the countryside around his studio in Topanga Canyon.
He got out of performance art in the mid-1970s, and in his later work betrayed more of an interest in engineering, with a nod to the career in architecture he almost pursued. In Beam Drop, he dropped several beams from a crane into wet concrete. Medusa's Head is a five ton lump of rock and concrete threaded with toy railway tracks, apparently to illustrate a nightmarish future which never came to pass.
And in one of his most appreciated works, Urban Light, he arranged 202 restored streetlamps on a square outside the Los Angeles County Museum of Art. The regimented beauty of that piece is undeniable, though it could be viewed as an illuminated graveyard.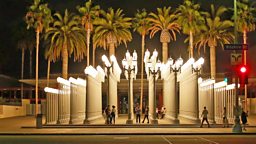 Urban Night at the Los Angeles County Museum of Art | Getty Images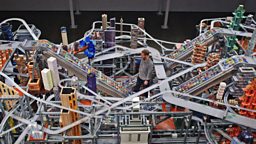 Metropolis II, still from Burden | courtesy Dogwoof Films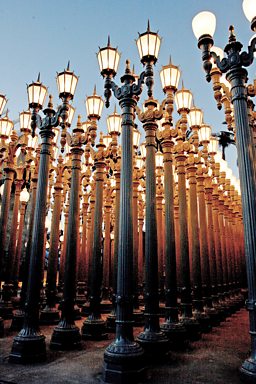 Urban Night | Getty Images
Beam Drop: Brazil | A 2008 recreation at Institut Inhotim in Brazil of Chris Burden's original 'Anti-architecture Performance' work, which was displayed at Art Park, New York in 1985 and destroyed three years later.
Despite this late flourishing, Burden's reputation rests with those early conceptual works, in which his body was central. Were they even art, and if so, why? In the documentary, the late art critic Brian Sewell, is happy to deploy curatorial snobbery to dismiss Burden's work, suggesting that performance art was, is, a matter of novelty rather than inspiration. "It's new," he says, "but that doesn't make it art. It only makes a thing that silly people go to see."
It's new, but that doesn't make it art. It only makes a thing that silly people go to see.

The late art critic Brian Sewell
If the controversy surrounding Burden's work has dimmed over time, his influence has not. Cornelia Parker's piece, The Maybe, in which Tilda Swinton sleeps inside a glass case (first seen at London's Serpentine Gallery in 1995, and reprised at New York's MoMA in 2013) was like a benign version of Doomed, the Burden work in which he lay under a plate of glass for 45 hours, only stopping because a concerned member of gallery staff delivered a pitcher of water.
There was something Burden-some about David Blaine's Above The Below, in which the illusionist spent 44 days inside a glass box beside Tower Bridge in 2003. Blaine, at least, has admitted to admiring Burden, though his exhibitionism underlined the thin line between artistic indulgence and narcissism.
Burden's logic was rooted in minimalism. He boiled sculpture to its essence, and decided that "the act of doing something could be art". He also wanted to explore the idea that art could be violent, painful and frightening. Was he prophetic? There's definitely something unsettling about the areas he chose to explore. His plan to shoot at a plane taking off from LAX airport and his confession of an extra-marital affair in a video piece offer parallels with today's world, in which social media have become vehicles for emotional over-sharing and terror.
Burden's work was more calibrated than that. But the lesson of Shoot is that sometimes even a trained marksman can miss the target. As Laurie Anderson noted in her folk-rock tribute to Burden: It's Not The Bullet That Kills You (It's The Hole).
Burden, directed by Tim Marrinan and Richard Dewey, is in cinemas from Friday 5 May 2017.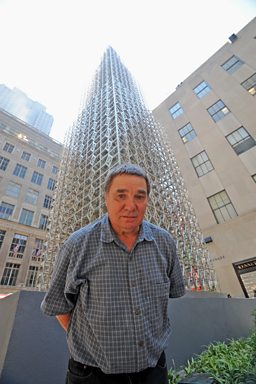 Burden in front of his 65-foot toy parts sculpture at Rockefeller Center, New York, 2008 | Getty Images
Evoking the energy of a city: Chris Burden's Metropolis II, The Movie
Flying Hayak, 1982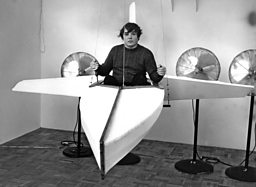 Flying Hayak, Chris Burden, 1982, | Los Angeles Times / Getty Images
Chris Burden at home, 2014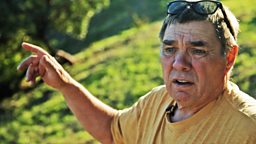 Chris Burden at home in Topanga Canyon / A still from the Burden documentary | courtesy Dogwoof Pictures