Main content
'I was nearly sectioned for sharing my feelings on social media'
By Finlay Wilson // BBC The Social contributor // 28 October 2020
When I agreed to talk about depression on BBC Radio 4's Tricky podcast, I was in a good place and up for a conversation about the evolving mental health landscape. Especially during a time when the additional complexity of a pandemic is affecting everyone. It felt like an empowering move. Something I wasn't going to get stressed about because if anyone enjoys talking, it's me.
Then, by a stroke of bad luck, I had a week of being pressed from all sides.
Work I had booked for months was abruptly called-off, my honeymoon was cancelled, my day job was becoming stressful as we reacted to enhanced restrictions and the daily focus on news was starting to take its toll.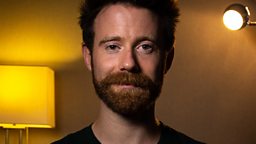 By mid-week, the relentless stream of disappointment and anxiety was beginning to shut me down. Each time this happened, my bounce back took a little longer. The system restart was getting slower and slower.
In this state, I am silent to the point of frustration. I entertain conversations with everyone around me in my head and finish them before even starting the real life version, much to the irritation of everyone else.
By the end of the week, I was completely down. The things that bring me joy had no effect. My dogs were trying to bring me comfort and my husband was getting increasingly frustrated as he wondered what the cause was and who was to blame. It's rarely that simple.
Someone's good intentions created such a traumatic experience for my partner, clients and myself.
I left the house at noon to walk to some of the places that usually bring me some calm. In this state of shut down, I am not anxious. I am calm to the point of being completely blank. I thought some nature would help.
While I was out, I turned to social media. And before you roll your eyes, social media is basically my journal. I openly write online to process my thoughts so I started putting words to the page and tried to articulate how I felt with a metaphor of a jar of coins. Each negative interaction that week was represented by someone taking a coin from my jar. Eventually, the jar was empty and I was too low to ask for any back.
This message was posted with an image of me looking pensive in a kilt on a tumbledown bridge in the highlands. It was not a cry for help but a curated picture and caption, clearly thought out to explain how I felt at that moment.
Fast forward an hour to teaching my evening yoga class. The building where I teach is closed, we are in the middle of the class and the police arrive at the door.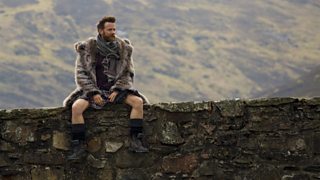 Upon finishing the class, I am informed they are waiting outside and I have no choice but to speak to them in front of my clients. They tell me that someone has anonymously tipped them off that I was a suicide risk. They had visited my home and told my husband that they feared I would harm myself. He hadn't seen me in hours so you can only imagine how he felt getting that news?
The officer explained that I am to go to a mental health clinic for assessment as I may hurt myself. Were it not for my husband being there saying he would look after me, I would have been taken away.
Someone's good intentions created such a traumatic experience for my partner, clients and myself. My doctor was informed and I am still awaiting an appointment. My work heard about an "incident involving the police" and I am awaiting a meeting with them. All from one Instagram post.
This wasn't the police's fault. They were doing their job. I also acknowledge that this anonymous person did what they thought was right. However, it's a fact that this incident caused more harm than good.
I think it's right to look out for others but, if there is one lesson from this, people should try and reach out to someone before taking more desperate measures.
If you, or someone you know, have been affected by the topics covered in this article, you can find information and support at bbc.co.uk/actionline.