Main content
You can unlock your phone with your toes
And 6 other bizarre things we've accidentally discovered on Radio 1 Breakfast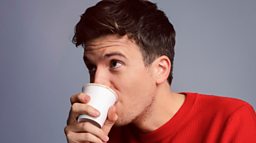 1. You can unlock your phone with your toe
Sorry fingers, you've been topped.
Toes can unlock iPhones (Greg tried it himself, and it worked!), as can the nose of a dog and the snout of a cow. That's according to Greg's listeners, who've gone to extreme lengths to unlock their devices.
Ah, the wonders of modern day technology.
2. Jake Gyllenhaal REALLY loves Sean Paul
If Jake Gyllenhaal is in the room and a Sean Paul song is playing, don't you dare turn it off.
If you hold the opinion that Sean isn't one of the world's greatest, don't even think about mentioning it to Jake.
During one of Greg's Unpopular Opinions, one listener proudly declared their belief that Sean Paul was "massively overrated."
Enter Jake…
3. Stormzy doesn't use an alarm clock
How do you become a Glastonbury headliner and one of the UK's most successful rappers of all time? Well, the answer might involve having so much self-discipline and control that you simply do not need an alarm clock to wake up.
Stormzy doesn't use one. He just arises at will and never oversleeps. Is this a thing?! Can we actually live without our alarm clocks?
Naturally, Greg gave it a try.
The result? A natural awakening at 5.09am (39 minutes late), a slight panic, a rush to the studio and a vow from Greg: "I don't think I'll be repeating that."
4. Taylor Swift has an obscure favourite Christmas film
Sooner than you think, we'll be cuddling up on sofas and revisiting our favourite Christmas films: Elf, Love Actually, Die Hard (sorry).
But Taylor Swift's personal favourite, which she revealed to Greg in another edition of Unpopular Opinion, isn't a famous classic.
Her fave is 'Just Friends', a 2005 film starring Ryan Reynolds in a fat suit. Critics gave it an average rating of 42% on Rotten Tomatoes. And nope, Greg hadn't heard of it.
5. Staring at seagulls makes them go away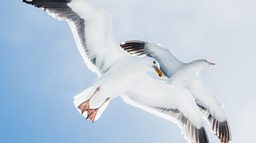 They have a reputation for snatching chips from unsuspecting beach-goers, but apparently there's a trick to making seagulls go away.
Newsbeat reported that there's a neat trick: look a seagull in the eyes and give it a staring contest.
Reporter Hannah Morrison went to Whitstable to put this theory to the test. Turns out, it works on some seagulls, not so much on more determined ones.
6. Millie Bobby Brown plays pranks on her co-stars
The Stranger Things star can't quite produce Eleven-like levels of telepathy in real life, but she does have a few tricks up her sleeve.
She revealed back in May that she likes to be a film set's resident prankster. Co-stars will find bugs in their food, terrifying exorcist dolls in their trailers, and all sorts more.
A message to all fellow Hollywood stars: watch out for Millie, she's up to no good.
7. You can take a beer exam
Forget GCSEs or degrees – there's a test out there that makes willing participants drink up to 15 beers in one go.
It's not just a big trip to the pub, however. Listener Gina, who wanted to become a Beer Sommelier (aka someone qualified to know the difference between various beers), had to taste beverages that were off, or contained bacteria. Some tasted like vinegar, cardboard and butter. Lovely.
She also had to do an exam and a presentation. All in all, not exactly what it sounded like on paper.
"I'm slightly less interested now," admitted Greg back in June. "It sounded like a bit of a jolly."
Still, every day is a school day.
Radio 1 Breakfast Best Bits with Greg James is filled with early-morning chat, nonsense and extra fun.