Main content
A guide to uploading to BBC Introducing
At the heart of BBC Introducing is the Uploader. This is where a music artist can create a profile and upload tracks so that producers at the BBC can hear them and potentially play them on the radio.
The Uploader is easy to use on your smartphone, tablet or desktop. This guide will help get you up and running.
Before you use the Uploader, make sure you've had a look at our Terms of Use.
Step 1: Go to bbc.co.uk/introducing

The BBC Introducing homepage on mobile (left) and desktop (right)
A link to the Uploader is at the top of the page
If you're not already logged in, this will say 'Sign in'. If you are already logged in this will say 'Upload tracks'. Click it to continue!
Step 2: Sign into your BBC account or create a new one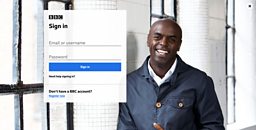 Signing in to a BBC account on a desktop computer (hello Trevor Nelson!)
If you already have a BBC Account log in on this page
If you don't already have one, click 'Register now to create one'. It's a short process and you'll be asked for: date of birth, email address, postcode, gender, contact preferences and display name
A BBC Account is used for lots of things across the BBC including BBC iPlayer and BBC Sounds. Find out more. Every time you want to sign into your BBC Introducing profile you will need to log in using your BBC account details.
Step 3: Enter the details for your music profile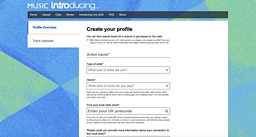 Creating a profile on desktop
If you've already created a profile with your BBC Account details you'll see all of your information here already
If you're creating a new profile, there'll be fields for you to complete. Some of these you will need to fill out before you can submit the page:
Artist name - add the name you go as for your music
Type of artist - choose from: Solo artist; Band/Group; Producer/DJ; Composer
Genre - choose from: Classical; Country; Dance & Electronic; Desi; Folk; Hip Hop, RnB, Dancehall; Jazz & Blues; Pop; Rock & Indie; Soul & Reggae; World
Find your local radio show - pop your postcode in here, hit the search button and it'll automatically find your local Introducing radio show
Your connection to the local area - just put a brief line in here about how you're connected to your area, e.g. "I live here" or "I go to university here"
Email - this email address will be used by us to get in contact with you. It's best to make sure this is the same as the email address you use to log in to your BBC Account
Be the first with email updates - choose whether you want to receive newsletters from us
Want to get paid? - choose whether you'd be up for making your tracks available to our commercial partners if we introduced this in the future
Terms of Use - let us know you've agreed to the Introducing Terms of Use
The other fields are optional
You can always go back in to edit these details after you've created your profile
Hit 'Create profile' at the bottom of the page when you are done
Step 4: Upload a track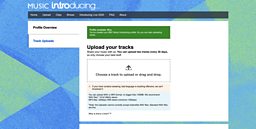 The Track Uploads section on desktop
Click on the upload icon, or drag a WAV or MP3 onto it to begin uploading a track
Lower down the page the file will start uploading
Before you can submit the track you need to give it a Track name
There are also options to add details of composers and additional artists, as well as details of the track's record label, catalogue number and publisher if that applies (don't worry if it doesn't, you can ignore this section)
If you want to tag the track so it's included in a specific campaign we're running, you can do this using the dropdown menu under 'Tag'. There is also a link here so you can read more about any currently live campaigns
Hit 'Submit track/s' when you're done
And that's it!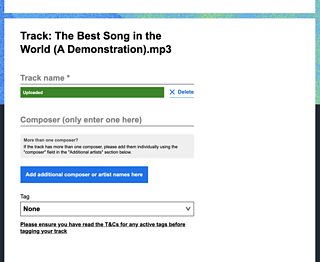 If you need to change something in your profile you can click on the Profile Overview tab and then the 'Edit' button. If you need to change a detail on one of your tracks, go to the Track Uploads tab and click the 'Edit' button.
Want more info?
Top tips to help you cut through on the Uploader!

Answers to the most common questions asked about BBC Introducing

Our User Privacy Notice details how we collect and store your personal information