Main content
Wellbeing and air purifying: the truth about houseplants
Our potted pals are on trend, with their Instagram-friendly appeal, natural touch and ability to brighten up a room on a budget. They're also said to come with a host of well-being benefits - from deterring illness and boosting healing, as well as improving your concentration, memory and productivity. Do they really purify the air you're breathing?
Here is the truth about houseplants, from Dr Michael Waring (from Drexel University, Philapdelphia), Theo Inglis (design historian), and Emma Nosurak (owner of Plant Shop, Stockport).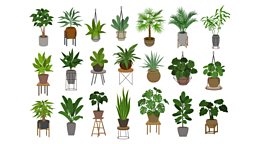 Why are houseplants so on trend?
The Royal Horticultural Society found that nearly three quarters (72%) of adults had a houseplant in their home with this figure rising to four in five (80%) of 16-24 year olds. A fifth of owners also said they use plants in the home to boost their health and well-being.
Part of the reason behind the popularity of houseplants can be attributed to the housing market. Many people are increasingly having to rent long term and aren't allowed to decorate, so a single wow plant can really light up a room - and are portable.
76% of those sharing flats now own at least one houseplant each. From hanging baskets to the much-loved succulent, there has been an increase in the number of houseplants gracing our Instagram feeds, with over 2.4 million posts tagged with the hashtag, #houseplant. (Spare Room survey, with 7,829 flatsharers, October 2019).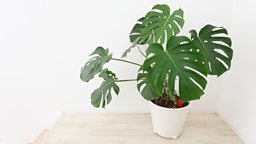 Monstera - a Swiss Cheese Plant. These plants like moderate water once a week and a fairly humid environment.
Which houseplant is best to start with?
Emma Nosurak (owner of Plant Shop, Stockport) recommends a Monstera - a Swiss Cheese Plant that has become a social media hit – there are 900,000 photos of them on Instagram!
She says that if you really want to wow people, chose a variegated one (ones that have differently coloured zones in their leaves), but they're rare and hard to propagate and start growing so expect to pay quite a bit for a small one.
Many houseplants are very forgiving, but you need to know which ones are and have them in the right place.
Ferns are surprisingly easy to grow but don't want masses of direct sun and love a humid spot and regular temperatures.
The truth about houseplants from the Smart Consumer podcast.
Stick with a little cactus or succulent for a warm room if you haven't got much time. You can get away with very little or no watering in winter. Children love them and you can sometimes coax them to flower.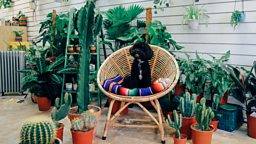 Emma Nosurak's Plant Shop, Stockport
When did houseplants first become popular?
According to design historian Theo Inglis, houseplants first became popular in the 19th century thanks to the industrial revolution. People were worried about air pollution and dust and the lack of nature and greenery in their lives, which led to increasing calls to bring small plants inside.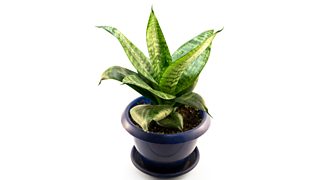 An Aspidistra. These plants have a tolerant attitude to light, dry air and lack of watering making them easy to care for.
They remained popular into the 20th century – especially ferns and the aspidistra, which was the only thing that could cope with all the pollution from gas fires.
Aspidistras remained popular until the 1930s, becoming a symbol of middle class aspiration, since the middle classes could afford the heating and ventilation needed to keep house plants alive.
George Orwell's 1930 novel "Keep the Aspidistra Flying" made the plant a symbol of conformity. His hero George Comstock says "There will be no revolution in England while there are aspidistras in the windows."
The 1950s Festival of Britain (a five month long celebration of British Manufacturing and Design held at the South Bank in London) was very influential in the history of houseplants.
Many furniture and interior designers were influenced by Scandanavia where houseplants were popular, and the festival exhibition space was decorated with plants, often overflowing from long troughs or planters.
Sir Terence Conran's first manufactured piece of furniture was a long planter. The fashion soon spread, and Conran shops and designs have featured houseplants of all sorts ever since.
A 1952 edition of The Architectural Review was devoted to indoor plants and features an illustration of a Swiss Cheese plant or Monstera on its cover.
Are houseplants good for you?
According to Dr Michael Waring, whilst plants can help make your home or office space look nice, claims about their ability to improve the air quality are "vastly overstated."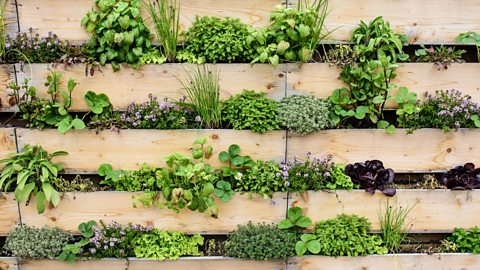 There is a wide gulf between real gardens and those portrayed on social media.
He and his team took a closer look at decades of research suggesting that potted plants can improve the air in homes and offices. They found that opening a window far outpaces plants when it comes to cleaning the air.
The myth that plants are excellent for improving air quality came about due to a NASA study in 1989 which showed that plants could improve indoor air quality.
Opening a window far outpaces plants when it comes to cleaning the air.
Dr Waring points out that NASA did these experiments in special chambers, not real life. "They just didn't take the analysis far enough to see what would happen in real life." Dr Waring's team were looking at VOCs (volatile organic compounds), a class of pollutants they regularly monitor, composed of carbon, hydrogen and sometimes oxygen.
They concluded that if you take the average value of all the data in the literature it would take 10 plants per square meter to compare with natural air exchange in a room – "an infeasible amount."
Nevertheless, there is good research suggesting plants have positive psychological impacts, and that living next to green spaces can promote well-being. "Plants can make you feel good, its nice to tend them, they have many positive benefits, we just want to point out that cleaning your air is strongly not one of those benefits."
Plant Shop owner Emma Nosurak doesn't think people who love plants will be bothered by the research. "It's about the look of them, about how they create a green space and are part of the whole move to caring about nature."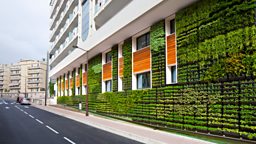 Plant or 'living' wall
Do plant walls help the environment?
Plant or 'living' walls may help the environment in terms of capturing particles, if they are built say between a road and a playground, there is research that suggests a dense planting can catch the large air pollution particles.
But in terms of filtering volatile organic compounds (VOCs) in the air, Dr Michael Waring suspects they don't work for the same reasons the plants in your home don't – they're too small in relation to the size of the area you want to purify.
The National Grid Headquarters, just outside of Warwick, is the current European record-holder for a living wall, boasting a 1,000m² vertical garden wrapped around its power distribution centre. It was built by AnsGlobal, using 97,000 plants!