Main content
Dine and Disco (Text Competition)
***This competition is now closed***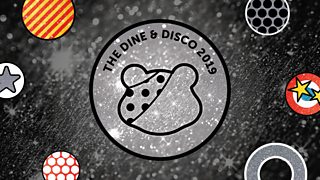 Event date: Weekend date in 2019 - TBC
The Package
There are five prizes. Each prize is as follows: winner and their guest to attend The Dine & Disco, in 2019 (dates to be confirmed), where our headline act will be Michael Bublé.
Full details to be confirmed but will include:
Transfers to the Isle of Wight via boat.
Brunch on the Isle of Wight before heading back to the mainland.
More celebrity guests and activities to be announced.
Champagne reception and an overnight stay.
Food will come from a selection of chefs with specially created food stations, offering some mouth-watering dishes.
The incredible Michael Bublé playing live.
There will be no shortage of refreshments throughout the night.
How to enter
To enter the competition and support BBC Children in Need all you need to do is text the word DISCO to 84903.
Texts will be charged at your standard network message rate and you need to be 18 or over and have the bill-payers permission.
Once you receive confirmation of your entry, a one-off voluntary donation of £10 will be made to BBC Children in Need. You can opt out by replying CANCEL to your entry confirmation text within 60 minutes should you wish.
You've got until 7:00am on Friday 23rd of November 2018 to enter. Full details and Terms and Conditions can be found here.
The winners will be randomly selected and notified by phone between 7:45am and 8:15am on Friday 23rd November 2018 and you have to answer your phone within seven rings or we will move on. Good luck!
Requirements
You have to be 18 to enter.
Rooms will be allocated by the organisers and at their discretion. All extras to be settled by successful winner on check out.
Successful winners will need to sort own transfers to and from hotel.
All details subject to change/ adaption.
The prize will be on a single date in May or June 2019.
Privacy notice
Fonix Mobile Limited provides the text service for us. Your information (mobile phone number and amount of donation) will be collected by Fonix Mobile Limited on behalf of BBC Children in Need and will only be used to process your donation, provide receipts, process any refunds as necessary. Our legal basis for this processing is that it is in our legitimate interests to fundraise (and we don't believe this unreasonably impacts on your rights and freedoms) and if you are a winner that the processing is necessary for the fulfilment of a contract. If you are a randomly selected to receive a call to win or you are a winner we will share your information with the BBC in order for them to contact you to let you know you have won and to administer the prize. Any additional information provided as part of the Gift Aid declaration will only be used for the purpose of our legitimate interests (and we don't believe this unreasonably impacts on your rights and freedoms) of claiming Gift Aid and in order to help analyse our income. We will retain your information in accordance with our retention policy, an extract of which is available on request. To find out more about how we will use your information, including how we use it if you sign up to keep up to date about children we support and fundraising news, see our website or contact pudsey@bbc.co.uk.
The BBC complies with the provisions of the Data Protection Act 2018 and the General Data Protection Regulation 2016/679 in processing personal information. BBC will receive the personal information that you have provided about yourself which will include your name, contact details. The personal information that you provide will be processed for the purposes of contacting you to let you know you have won (if you answer within 7 rings) and for fulfilling the prize. The legal basis on which the BBC processes your personal information is for the legitimate interests of the BBC in fundraising for BBC Children in Need and we don't believe this unreasonably impacts on your rights and freedoms. The BBC will retain your information for twelve months. For the BBC's privacy policy, please see www.bbc.co.uk/privacy.
Children in Need 2018
A celeb-filled day of fun dedicated to the amazing work of Children in Need.

Find out all about Children in Need, including how your money improves children's lives.

Make a donation to Children in Need 2018 (By clicking this link you will be moving to the BT MyDonate web page. Please note that this is subject to the BT My Donate Terms & Conditions and Privacy Policy).