Main content
Transmitting Warhol
12 August 2015
Twenty-seven years since his death, the ideas Andy Warhol filtered through his work have now become so prevalent as to be almost invisible. He took the mass market – Campbell's soup cans and Brillo pad boxes – and made them into his fine art, which itself became mass market.

Andy Warhol, Marilyn Diptych 1962, detail | © 2014 The Andy Warhol Foundation for the Visual Arts, Inc. / DACS, London
Warhol's concept of 15 minutes of fame (for which photographer Nat Finkelstein also claims authorship) is now seen to be so mundanely true as to be barely worth mentioning. But what unifies many of his ideas is that they are endlessly fascinating reflections on modern life.
Warhol voraciously mirrored the world around him – its stars, its horrors, its gaudy creations, often deploying the easiest or cheapest of means to do so: screen prints, photographs, illustrations, magazines, film, video.
Tate Liverpool's exhibition in late 2014, Transmitting Andy Warhol, was a timely reminder of the breadth of the pop artist's remarkable output and how Warhol exploited all the means of expression open to him.
Curator Darren Pih showed BBC Arts around the exhibition. As Warhol was often wont to say: "Wow!"
The original version of this article was published in November 2014, to accompany the opening of the exhibition.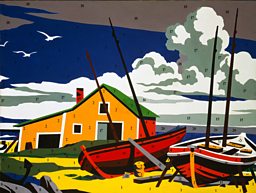 Andy Warhol, Do it Yourself (Seascape), 1962 | © 2014 The Andy Warhol Foundation for the Visual Arts, Inc. / DACS, London
Pop Art Features
A dissenting view from the global artists represented at The World Goes Pop exhibition at Tate Modern.

Can Pop Art really trace its origins to the work of a couple of artists from Scotland?

Stephen Smith compares the courts of Andy Warhol and the original Sun King, Louis XIV - with the Factory as a 1960s Versailles.

Watch the BBC Four Goes Pop! channel idents by Peter Blake, Derek Boshier & Peter Phillips.

Find yourself in the midst of a typical day for Pop Artist Andy Warhol in the mid-1960s.

Controversial British Pop Artist Allen Jones is the guide around his Royal Academy exhibition.

A Career in Quotes: What the critics said about controversial British Pop Artist Allen Jones.

Follow Andy and his entourage as they tour London in 1970, meeting David Hockney and film critic Dilys Powell.

A fascinating look inside The Factory in 1965, as filmmaker and activist Susan Sontag visits while Andy is filming.

When Everyone Could Own a Warhol: Andy Warhol's 1950s album covers for hip jazz labels such as Blue Note.

The Factory 1964-1970: Billy Name's iconic images of Warhol's Silver Factory, with the Velvets, Nico, Warhol superstars & Dali.

William Cook on the exquisite colours of German Pop at an exhibition in Frankfurt.

Artworks from the bold and brilliant pioneers who shaped Germany's 1960s pop art scene.