Main content
Bramley Apple Pulled Pork with Caramelised Apples and Sage
Pulled pork is great on warm soft floury baps, served with salad and ideal for casual cooking and entertaining, where everyone can help themselves. Shoulder of pork is well priced and value for money.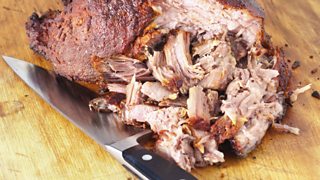 INGREDIENTS
1 6kg 3 ½ lb joint, boneless pork shoulder or smaller joint.
1 tsp sea salt
1 tsp smoked paprika
50g/2oz dark brown sugar
125ml balsamic vinegar
2 dsp Worcestershire
125ml apple juice
1 dsp. olive oil
Pinch of seasonal herbs :- eg sage, thyme or rosemary
Baked apples
6 – 8 small apples Bramley's or eating apples
25gms (1 oz) demerara sugar
sprig of sage
125 mls apple juice
METHOD
Pre-heat the oven to 220°c/425°F and line a roasting tin with foil.
Pat the pork dry. Mix together the salt, paprika and sugar. Then spread over the surface of the pork. Pour over liquids, olive oil and cook for 30 minutes at the high temperature.
Reduce oven temperature to approximately 300 degrees F. Fold the foil over the pork and return to the oven for slow roasting for approx. 4-5 hours and cook until tender and falling apart.
In a separate dish core the apples and sprinkle with honey, sugar and sage. Cook the apples in the oven alongside the pork for the final 30 minutes until soft and golden. If using as a main dish serve with the pork, along with a relish or chutney of your choice.
Serve Hot!