Main content
Women and the coffee shop revolution
by Jacqui Farnham, Producer
A coffee shops phenomenon has swept Britain's high streets, and coffee is now Britain's number one hot drink amongst men and women alike; but without the influence of women it's arguable that Britain's coffee revolution might never have happened at all.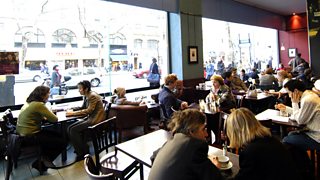 Women weren't just going to be satisfied with having a Babycham down the pub now and again with their husbands.

Rita Clifton, Chairman Brandcap
There's no denying that the British, once a nation of tea drinkers, have passionately embraced coffee and coffee shops. Last year we spent £6.2 billion in coffee bars across the country, an increase of £400million on the year before. There are 16500 coffee bars in Britain and the sector is booming at a time when other businesses are continuing to struggle.
Posh coffee may once have seemed frighteningly expensive, but many of us now see it as an affordable luxury; and for others it is practically one of life's basic necessities. Coffee shops seem to have a truly universal appeal; they have captured the hearts of men, women and even children from all socio-economic groups. But it was women who drove the introduction of coffee shops to the UK, and it is women who drive many of their key features now. To find out why, we have to go back to the 1980s and across the pond to America.
In 1982 a young, go-getting American businessman took a trip to Italy. His name was Howard Schultz and the company he worked for, a small coffee bean retailer, had sent him to Milan to investigate espresso machines. But the businessman found more than coffee making appliances in Milan. He discovered a dream. One morning, as he visited an espresso bar for a quick caffeine shot, he noticed how Italians used their coffee houses as places for meeting and socialising.
He was struck by how different this coffee experience was from the American model where thick, soupy filter coffee slopped out in diners was more the order of the day. Schultz later described this moment in a Milan café as an epiphany: "I saw something – not only the romance of coffee but the sense of community and the connection people had for coffee, the place and one another. And after a week in Italy I was so convinced with such unbridled enthusiasm that I couldn't wait to get to Seattle to talk about the fact that I had seen the future." Schultz returned home with near evangelical zeal and laid plans to convince his company to open coffee bars in the Italian style. It took Schultz another five years to achieve his dream but in 1987 he bought the company and began opening Milan-inspired cafes. The company was Starbucks, and Schultz had just kicked off the American coffee dream.
Schultz's coffee bars incorporated the concept of the café as a place for meeting friends and chewing the cud. The idea was a fast and contagious success in the States. Americans did not just wanted to sit and chat with friends in Starbucks cafés; they wanted to lounge around listening to music, working on their laptops and reading books. To meet these needs Schultz provide soft seating, power sockets and cosy nooks and crannies to make his customers feel at home.
According to Jeffrey Young, from leisure analysts Allegra Strategies, Schultz's brainwave in making the café a home-from-home was a moment of genius. "It was such an original idea to incorporate soft furnishings. Things that we take for granted today, sofas, bookcases; allowing consumers to feel like they are in their own home."
In Britain, the socialising landscape in the late '80s was very different. We already had a traditional venue for meeting friends, working and passing time. For centuries the great British pub had been a focal point for communities across the country. But at the end of the decade, as Schultz was in the process of conquering America, our local boozers were in trouble. Most of Britain's pubs were in the control of a few large companies that owned the buildings and sold their own beers at the pumps. But the big brewers that operated most of the UK's pubs were in for a shock. In March 1989 the Monopolies and Mergers Commission reported back from an investigation into the industry. The commission stated that the brewers had too tight a grip on the beer sector and it ruled that the largest brewers must to let go of vast swathes of their portfolios of pubs.
Whitbread, a company that had been brewing beer since 1750 at its site on Chiswell Street in East London, was particularly badly hit. Whitbread lost the revenue from nearly a third of its 6500 strong pub chain. The company's bosses decided that it would have to diversify away from beer in order to survive. The man who went looking for a new string to add to Whitbread's bow was David Thomas, head of the company's leisure division. In the early '90s, Thomas began conducting market research to identify a new business sector for Whitbread. The research he commissioned returned the interesting conclusion that women were emerging as a powerful new source of spending and as the family finance decision-makers.
From the mid-20th century onwards women had entered the workplace as never before. Traditionally, the female workforce had been confined to low paid work that offered little in the way of disposable income. The explosion of jobs for women during the Second World War and the increasingly widespread admission of women into higher education had provided many women with more skills and better qualifications. In the 1970s the advent of the contraceptive pill allowed women more choices about pregnancy and family life; and the feminist movement gave an emancipated female workforce more confidence to compete for and win jobs.
The playing field between men and women may not exactly have been level; but it was more level than it had been in the past. Women now had new freedom to earn money, if not quite as much money as their male colleagues; and to take control of their own purse strings. The trouble for brewers like Whitbread was that not all of these newly empowered women liked pubs. As Rita Clifton, Chairman of Brandcap puts it, "Women have literally come out of the home, they have their own income, their own wherewithal, their own tastes and they weren't just going to be satisfied with having a babycham down the pub now and again with their husbands." Even if women had been satisfied with the pub environment pubs were not always enticing places for them. Whilst a man could quite happily browse the racing tips or the financial pages on his own without anyone looking twice; for women, in the main, pubs simply did not provide this sort of comfortable space.
As the '90s dawned, Whitbread Breweries began to see that women, with their new found spending power, might want a different kind of venue in which to relax or to meet friends and of course, to spend money. And it didn't take David Thomas long to work out what kind of venue that might be. At that time Whitbread had a chain of restaurants in Vancouver and Thomas was tasked with visiting them from time to time to check on their progress. In 1993 Thomas was driving down Robson Street, one of Vancouver's premier shopping thoroughfares, when he noticed a Starbucks café on one corner of an intersection. It was one of the first Starbucks stores outside the US and Thomas was curious enough to stop and buy a coffee. He thought no more about it until 7 months later he returned to Vancouver on another trip. Thomas had his epiphany when he drove down Robson Street again and noticed that on that same intersection there was that same Starbucks on one corner. Only now there was a second Starbucks on the opposite side of the street. Not only that, but both Starbucks were doing well.
Like Schultz before him, Thomas realised that this could be the future. Describing that era he says, "This was a time when outside of central London if you were in the UK, you had to search high and low to find a decent coffee shop serving cappuccino, espresso etc. In fact often you didn't find one. So [seeing Starbucks] was bit like a light bulb going on."
To test the concept of a café, Whitbread built a test coffee shop in one of its warehouses in Bedford. Various styles of coffee were trialled with different types of consumer and the company soon discovered that whilst the concept was good, it was hard to find a winning formula for the actual coffee. Whitbread decided it needed to buy in the coffee expertise it lacked. Its bosses considered approaching Starbucks to take on a UK franchise for the company into the UK, though it later rejected this possibility. Instead, Whitbread went looking for a small coffee outfit to buy. What it discovered was a business that roasted its own coffee and had a modest chain of cafés. The company was small but it was a going concern with excellent coffee credentials. Its name was Costa Coffee.
Costa had been started by Italian brothers Bruno and Sergio in 1971, the same year Starbucks opened in the US. The brothers had started up a small roastery in Lambeth, South London and from there had expanded to open a few cafés called Costa Coffee Boutiques. In 1985 Sergio had brought his brother's share of the business and gone it alone. But in 1994, as Whitbread sought a company to acquire, Sergio was going through a divorce and looking for a way to offload Costa Coffee so that he could move to Monaco and start a new business. In 1995, Whitbread bought Costa Coffee for £25 million and began its coffee adventure.
A plethora of other coffee shops joined the coffee gold rush in the mid '90s including Caffè Nero and Coffee Republic; then finally Starbucks arrived in 1998. Since the coffee revolution began, both men and women have taken to their caffeinated charms. But it is women who have particularly benefited from their emergence. As I sit writing this article in a small outpost of one the big brands there are 20 other people sitting around me of whom 15 are women. It's the middle of the day and most of the women here are mums with small children and buggies. This is a favoured time for women to visit coffee shops. Whilst men are more likely to visit a coffee shop in the morning, women tend to visit more between the hours of noon and 5pm. And many of them are mums. Of course in the days before coffee shops mums could always meet at each other's homes. But most people's houses don't allow unlimited space for the increasingly big prams and buggies that now abound. Coffee shops have changed all that. Now, many cafés have specially designated buggy parks and areas where children can play with toys in soft play areas.
And the female friendly design of coffee shops doesn't stop there. From the outside cafés look very different from pubs. Not for coffee shops the high, frosted windows and dark bars that are a feature of most pubs. Coffee shops are designed to be places that you can see into as you pass. The primary reason for these big shop windows is to draw customers in. Describing the layout of a Starbucks store Rhys Iley, UK Operations Manager at Starbucks, says, "At the front of the store you'll see there is seating by the windows. So the customers can enjoy the view outside but also other customers can see that this is a great place to be, that there are other customers in there, so I'm going to go in and join them."
The open shop fronts favoured by most coffee shops have an added bonus for many women because they literally provide a transparent view of the interior. In most pubs it's simply not as easy to peer in and work out if this is going to be a friendly environment or not. As a lone woman, the idea of pushing the saloon bar door of a pub only to find that the dingy interior is occupied exclusively by men can be daunting. In coffee shops that's almost never an issue.
And the coffee shop isn't just a safe and friendly venue for drinking coffee. In our increasingly flexible world it can be a workplace as well. Most coffee shops now have numerous power sockets available. Where once the intrepid laptop user might scout around looking for a conveniently placed power socket whilst pretending to nonchalantly admire the décor, now many cafés positively advertise the fact that power outlet adorn their skirting boards. The all-pervading penetration of WIFI means that not only can we sit with our laptops and work; we can also access emails and operate almost as efficiently as if we were at work or at home. More and more employers now recognise the need for men and women to work from locations other than a traditional office. But it was women, many of them working mums, who pioneered flexible and part time working. It was, in the main, women who first saw the benefits of skipping the commute to an office in favour of working at or near home in order to be on hand for school runs. In a coffee shop we can rub shoulders with other humans, plug into the mains, connect with the WIFI, get down to work and partake of a decent cup of coffee in the meantime.
Of course, the trend towards more and more coffee shops is not driven entirely by women. In fact men and women buy coffee and use coffee shops in fairly equal numbers but they use them in very different ways. According to Allegra Strategies Café Project 13 report, men are more likely to visit a coffee shop on a daily basis, whereas women are more likely to visit 2-3 times a week. Women tend to stay longer once they get there though and they are more likely to use a coffee shop for socialising as well. Women are also more adventurous than men in the new drinks they are willing to try.
These broadly female ways of using coffee shops mean women are more likely to drive the look and feel of coffee shops, and to keep the coffee shops' innovation departments on their toes. So there are plenty of reasons for all British coffee lovers to order up a cappuccino, sink into a sofa and say a quiet little thank you to women for the advent and the ongoing development of Britain's coffee revolution.