Main content
Peri Peri Chicken
This recipe for Peri Peri sauce makes enough marinade for 6 chicken breasts.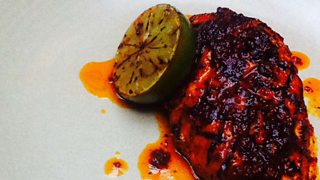 Ingredients:
20 red seedless chillies
2 cloves garlic (crushed)
1 tsp salt
1 tsp oregano
1 tsp paprika
160ml olive oil
80ml red wine vinegar
Method:
Cut the chilies in half and deseed them.
Turn the oven onto 220 degrees and after 20 minutes or so place the chilies into the oven to roast for 12 to 15 minutes.This will give the chilies more sweetness and maximize the overall flavour.
Place all the other ingredients into a pot with the roasted chilies and then heat it to about 60 degrees, this will take about 5 minutes, then leave to cool.
When the mix is cool transfer into a blender and then blend until smooth.
Transfer into the fridge until needed.
Before cooking:
Get 6 chicken breasts and score them with a sharp knife, season them with salt and give them a good squeeze of lemon juice and then leave them for about 30 minutes.
Now pour over the peri peri sauce and again leave for 30 minutes, keep some of the sauce back to glaze as the chicken cooks.
Cooking:
Cook the chicken on the BBQ glazing them all the time with the peri peri for about 5 minutes on each side, then move the meat away from the direct heat and let it rest for 5 minutes.
Check the centre of the chicken before eating making sure the juices are clear and there is no pink.
Lastly glaze the meat one more time before eating, but if you don't like your food too spicy then you can skip this step.