Main content
Writer and creator Mike Bartlett on Series 2
Writer and creator Mike Bartlett explains what's in store for Gemma and everyone in Parminster when Doctor Foster returns for a second series.
How do we find Gemma, Simon and Tom at the start of series 2?
It's two years later. Gemma and Simon are divorced. Gemma's living with Tom in their house in Parminster. She's still a senior doctor in the local practice, with her friends around her.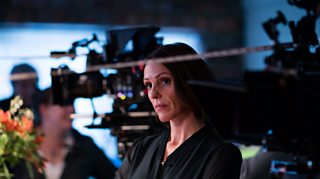 Suranne Jones filming Series 2
Series 2 is sexier, I think, perhaps darker, and more emotionally complicated

Mike Bartlett
Tom's growing up, a teenager now, learning about relationships. Simon's at arm's length from his ex-wife and son, living in London with Kate and their young child Amelie.
When you wrote series 1 did you have any idea that Gemma would be so loved and Simon so hated by the nation?
I hoped that the subject matter would appeal to a wide range of people, as so many of us have been through relationships which have gone wrong, but I don't think any of us working on the show anticipated how many people would watch, and how invested they became in it.
Did you expect series one would resonate as much as it did? Why do you think it did?
All romantic and sexual relationships are in some way built on trust - that the person we've chosen to be with is the person we think they are. And giving someone that trust inevitably makes us vulnerable if the relationship goes wrong. I think that fear resonated with many people, as did the betrayal, and of course the desire for Gemma to then get some kind of justice.
The dinner party scene is the most talked about moment from last series, did you expect that and are there similar moments in series 2?
The dinner party was one of the few moments I had in my head from when I started writing. Just because I knew the truth would have to come out and, as a playwright, I love a dinner party meltdown!
One of the things I'm pleased about is that once we're into that dinner party scene, we don't cut away until it's over. It means you're trapped in the awkwardness with them with no escape. And I was so pleased people loved it.
As for series 2, I hope there are moments that connect with the people watching, but it's quite a different show in terms of how it functions, so I suspect if moments do stand out they'll be for very different reasons. It's probably a slightly darker series...
Did you always have the plot in mind for series 2 when you wrote series 1? Did you find it easy to write these characters again?
I try with Doctor Foster to let it emerge organically from the psychology of the characters at each stage. So I don't have a big plan when I start writing. That was also true of whether it would come back. It was only when we were shooting series 1, and then in the edit, that I started to imagine what a second series could be. But of course you never know how it's going to be received so you don't allow yourself to go too far down that road.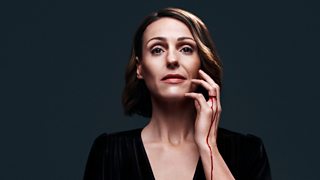 Watch the trailer for Series 2
But then, once I was writing series 2, yes it was a joy to write characters I knew so well - to find new places to take them. Also it's fun to write characters that you're not sure what they're capable of. That's certainly true of Gemma and Simon.
What can you tell us about the new characters in this series?
Sian Brooke plays a new doctor in the practice - also called Sian! Gemma sees her as a rival, and for some reason she seems to know more about Gemma than one might expect.
James meets Gemma when he comes to see her as a patient, but then he asks her out and that starts a new relationship in her life.
You write a lot for theatre as well as television, are they very different to write for?
Very different. I feel I've had to learn (and am still learning!) to write television as a separate skill. Theatre tends to be more metaphorical, and intense, as you're locked in one room, and focused on one thing. Television can hop around, and you need to invest in its naturalistic reality more. But I love writing both, precisely because they're so different. It means you tell different stories in very different ways.
Do you have a favourite character in Doctor Foster, if so why?
I couldn't possibly choose a favourite character! Coming back to them, I've enjoyed investigating them all further. One character that has a special place in my heart is the GP receptionist, Julie, played brilliantly by Shazia Nicholls. She's been there in the background from the first episode and I love her slightly dismissive attitude to everyone. Over the glimpses we get of her in series two, there's a little arc to that character.
What can viewers expect from series 2?
Hopefully it's got all the unexpected twists and unpredictable emotional turns that people enjoyed in series one, but while telling a new story about these characters. It's sexier, I think, perhaps darker, and more emotionally complicated. We also take Gemma to a place I don't think she would ever imagine she would get to.