Main content
Matthew
Sixteen-year-old Matthew from Swadlincote has been selected for the challenge, following his involvement with Cerebral Palsy Sport, the national disability sports organisation funded by BBC Children in Need. Last year's challenge featured local resident Daniel, who had been supported by the Umbrella Play and Learn Scheme.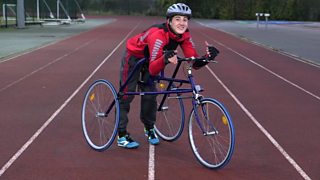 Aged 10, Matthew was a sporting protégé excelling at snowboarding, rugby, running and cycling. But on Halloween 2008 he suffered an accident at home which left him unconscious. Matthew suffered severe brain damage and spent six weeks in hospital before returning home to a very different life, having been told that he would never walk or talk again. Over the next four months Matthew had daily physiotherapy and slowly began to defy the odds. Despite his increased mobility, it became apparent that Matthew had developed quadraplegic dystonia and an injury similar to cerebal palsy. His speech is slowed and he struggles to be understood. Combined with being in a wheelchair, Matthew faces regular prejudice with people doubting his abilities.
BBC Children in Need funds Cerebral Palsy Sport which enables children with mobility impairments to take part in athletics. Matthew has been attending for two years and has developed a strong interest in race running and cycling. With his sporting background, Matthew is hugely looking forward to the challenge, determined to challenge people's perceptions and prove his own ability.
Speaking of the challenge Matthew said: "Since I got involved with Cerebral Palsy Sport I've become a big fan of biking and race running, so I'm hoping that my practising pays off! I've always been a really sporty and thanks to the charity I'm able to carry this on. It's given me a new lease of life and now I'm able to get back into competing rather than being sat on the sidelines. I'm really looking forward to the challenge as a way to give something back; BBC Children in Need has really helped me, and I hope I can help it do the same for others."