Main content
5 Major Lazer songs that should also have been #1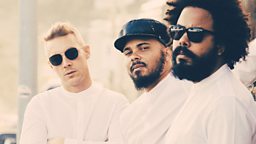 Major Lazer have been cranking out huge tunes since 2008 but it wasn't until this year that they scored their first No.1 single. Cold Water is currently spending its second week at the top of the UK charts and we're kinda shocked Diplo and pals weren't topping charts years ago.
Each one of these certified bangers could have been a No.1 hit. We demand a recount.
If you've been to a festival dance tent in the past five years, you know Pon De Floor. Even if you haven't, Beyonce sampled this carnival anthem for her hit Who Run The World (Girls), so you've got no excuses for sleeping on this.
Get Free was a hit across Europe but somehow stalled in the UK charts. In the years since its release, the song has been a favourite with DJs and TV producers, bringing a sense of justice to the song's poor chart position.
Watch Out For This (Bumaye) (2013)
One listen to those horns and you'll know you know it. Watch Out For This was a hit in Europe but stalled in the UK charts. Perhaps it just brought too much party for the Brits.
The Major Lazer crew may have been upstaged by their own guest on this non-hit from 2015, when Ariana Grande stole the show. It was a team effort but her superb 'all my love' hook is an absolute killer.
Despite being one of the biggest hits of 2015, Lean On only reached No.2 on the UK charts. Go figure.