Main content
WONDER - This Week At The Movies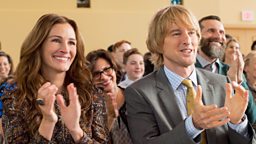 Image courtesy of Lionsgate.
Wonder ⭐️ ⭐️ ⭐️
August Pullman (Jacob Tremblay) is a young boy born with a rare condition known as Treacher Collins syndrome, which has left him with facial deformities. Up until now, he has been taught at home by his parents Isabel and Nate (Julia Roberts and Owen Wilson), but the time has come for him to go to a regular school, and Wonder tells the uplifting, feel-good story of Augie – as he's known – dealing with bullies, making friendships and becoming an unlikely hero.
Pros:
Movies as kind, compassionate and heartening as this one are increasingly rare. This is a proper heartstring-tugger, a sentimental and sweet story, winningly told by director Stephen Chbosky (The Perks of Being a Wallflower), delivering the schmaltz you want with humour you may not see coming. This is a film nigh-on guaranteed to raise a smile and drop a tear. It's a bit of a weepie people, but it all comes right in the end, don't worry.
Jacob Tremblay, who plays our bullied-but-brave friend Augie, was so good in Room but he's arguably even better here, deftly pulling you in and practically forcing you to love him. He's just so darn sweet, but so real too, and considering his strength it's impressive that they also find time for other key characters, such as Augie's sister, Olivia (Izabela Vidovic), and Augie's best pal Jack Will (Britain's very own Noah Jupe).
If you're looking for a family film that doesn't involve minions slipping on banana skins or ice queens with an odd habit of singing to themselves, this is it: a grown-up – albeit somewhat saccharine – story that is well worth taking the little ones along to for a bit of casual I-didn't-realise-I-was-learning update on compassion and kindness.
Cons:
There's a sense of naivety here that the more cynical and serious amongst us may find altogether too cloying, simplistic and syrupy. This is a rose-tinted world of never-ending American middle-class money, time and patience – and some might balk at the 'perfect imperfectness' of this story.
With its easy premise and simple message of kindness, Wonder is a little… modest. You may watch it and think… this could have been a TV movie, or a three-episode mini-series. It's very tame, very humble.
This film is, at its core, all about seeing someone for who they really are – who someone is when you put aside their physical appearance, and yet Wonder can, at times, be noticeably superficial. There's some irony there, but the movie does what it does so amiably, chances are you won't really mind.
Three word review: Kind, rare, moving.
Join Radio 1's resident film buff Ali Plumb as he reviews the latest movies hitting screens and interviews Hollywood's hottest stars.
Gal Gadot talks to Ali about becoming DC's Wonder Woman ahead of Justice League.
Subscribe to this podcast where the world's biggest movie stars share some never-heard-before stories.