Main content
FIRST LOOK: Line of Duty Sport Relief Special
Mother of God! DS Arnott, DI Fleming and Superintendent Hastings are back and only interested in one thing, catching bent coppers.
In an exclusive 'deleted' scene from series five, all three can be seen interrogating DC Taylor, an accused corrupt copper (played by Jason Isaacs) who they suspect knows the identity of the real 'H'.
Unfortunately for DC Taylor, his representation comes in the form of ineffective lawyer David Rickman (played by Lee Mack).
To see the hilarious sketch in full make sure to join us on BBC One from 7pm on Friday 13th March.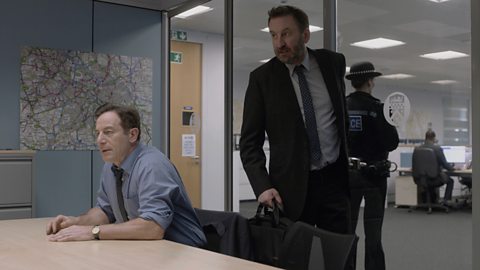 Here's a sneak preview of Jason Isaacs and Lee Mack in Line of Duty's Sport Relief special
External links on this page will send you to Sport Relief's website. Please note that Sport Relief is a separate organisation subject to their own Privacy Policy: the BBC is not responsible for the content of external sites.