Main content
Costa Book Awards 2018 shortlists announced
Front Row has exclusively revealed the 20 writers shortlisted for the 2018 edition of the Costa Book Awards. Among the nominees vying for the £30,000 main prize are some familiar names alongside 10 debuts.
The awards are split into five categories – novel, first novel, biography, poetry and children's book – with the winner taking home £5,000 before an overall winner is named Costa Book of the Year on Tuesday 29 January.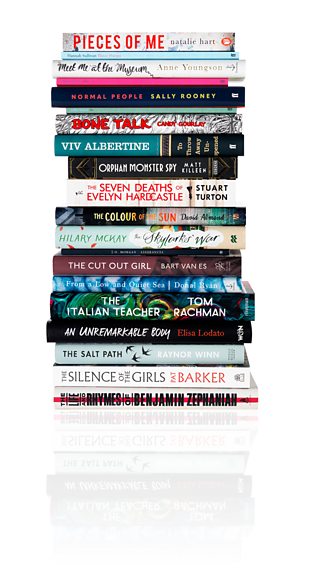 Former Man Booker Prize winner Pat Barker competes for the novel award with her fourteenth book, The Silence of the Girls. At 75 she is the oldest nominee in any category, but she will face stiff competition including Irish novelist Sally Rooney, who at 27 is the youngest. Rooney's second novel, Normal People, has received widespread acclaim and will be placed among the favourites for the prize.
The biography category features performance poet Benjamin Zephaniah and post-punk musician Viv Albertine, who published a second volume of her memoirs this year.


FULL LIST OF NOMINEES FOR THE 2018 COSTA BOOK AWARDS
2018 Costa Novel Award shortlist
The Silence of the Girls by Pat Barker (Hamish Hamilton)
The Italian Teacher by Tom Rachman (riverrun)
Normal People by Sally Rooney (Faber & Faber)
From a Low and Quiet Sea by Donal Ryan (Doubleday)
2018 Costa First Novel Award shortlist
Pieces of Me by Natalie Hart (Legend Press)
An Unremarkable Body by Elisa Lodato (Weidenfeld & Nicolson)
The Seven Deaths of Evelyn Hardcastle by Stuart Turton (Raven Books)
Meet Me at the Museum by Anne Youngson (Doubleday)
2018 Costa Biography Award shortlist
To Throw Away Unopened by Viv Albertine (Faber & Faber)
The Cut Out Girl by Bart van Es (Fig Tree)
The Salt Path by Raynor Winn (Michael Joseph)
The Life and Rhymes of Benjamin Zephaniah: The Autobiography by Benjamin Zephaniah (Scribner)
2018 Costa Poetry Award shortlist
Us by Zaffar Kunial (Faber & Faber)
Assurances by JO Morgan (Jonathan Cape)
Soho by Richard Scott (Faber & Faber)
Three Poems by Hannah Sullivan (Faber & Faber)
2018 Costa Children's Book Award shortlist
The Colour of the Sun by David Almond (Hodder Children's Books)
Bone Talk by Candy Gourlay (David Fickling Books)
Orphan Monster by Matt Killeen (Spy Usborne)
The Skylarks' War by Hilary McKay (Macmillan Children's Books)
The winners in each category will be selected by judging panels featuring journalist and critic Anita Sethi, poet Mimi Khalvati and writer and broadcaster Sathnam Sanghera and are announced on Monday 7 January 2019.
More from Front Row...
Kirsty Lang announces the Costa Book Awards nominees and Palme d'Or Shoplifters is reviewed.

Stig Abell presents a Front Row special on how reading fiction can help improve mental well being.