Main content
Why these young people are ditching traditional living for van life
For some, the thought of settling down in a house or flat just isn't for them.
BBC The Social's Giulia Candussi decided to meet the people who have chosen 'van life' over rising rent and unattainable mortgages.
Caitlin, Gordon, Emma, William and Laura provided an insight into living on four wheels.

*The videos included in this article were all filmed before the Covid-19 pandemic.
Fed up with her flat and sick of working just to pay rent and bills, Caitlin Mooney decided to renovate a van and make it her home.
"I just want to condense my life and live minimalistically, rent free," Caitlin says. "People I know are too concerned about having a huge house with all those things that they work so hard to have, but they never get time to use, and I just didn't understand that."
By ditching the flat, and everything that comes with it, Caitlin doesn't have the overheads of rent and bills. However, she does appreciate how difficult it is to free yourself from your possessions and break away from societal norms.
"It's so hard to let go because it's drummed into your brain that's how you are supposed to live - have a job, get a flat, get married, have kids, all that kind of stuff, so you just have to break away from all that," Caitlin explains. "That is the hardest part because that goes around in your head sometimes."
I just want to condense my life and live minimalistically, rent free

Caitlin
Caitlin admits that not having access to a shower and toilet can be challenging but explains that these things can be found on the road.
Despite loving her van life, Caitlin says her family do find the concept quite difficult to grasp.
"They are very traditional," Caitlin says. "I don't think that they agree with [it] but that's my life..."
Caitlin recently drove her van to the Netherlands. Her only companion was her dog.
"I felt very empowered in my life and my personal life, I felt like I was doing something for me and for my dog," Caitlin reflects. "[I] had such a great time just driving. We didn't really know where we were going, we just kept driving...it was so liberating."
Despite the freedom, Caitlin admits that long trips can be quite isolating.
"It was extremely lonely, and I wish that there had been someone there to talk to and things," she explains.
"Sometimes it can get quite hard to push on by yourself but you really have to. At night it's a lot worse because you are kind of sitting in silence." Despite moments of loneliness, Caitlin is keen to maintain her new way of life and that means upgrading the van.
"Over the winter I hope to put in the rest of this van - like the kitchen, a small bathroom and some storage area."
Gordon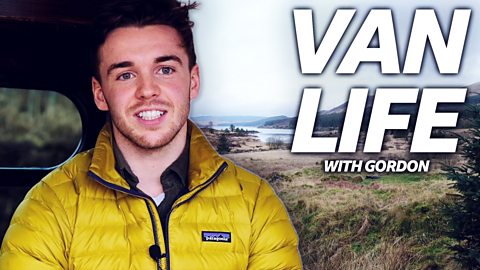 Gordon bought himself a van and completely converted by himself.
Gordon bought his van in November 2019 and ripped out the previous owner's interior. The van conversion was underway.
"I basically didn't plan much in advance about where everything is going and what to buy and what to do," Gordon says. "Everything was planned very last-minute so, first thing, insulation, I needed that so, bought that, put it on the walls."
Then it was a case of turning to the ever-reliable YouTube tutorials to figure out how to do the rest.
"It's surprisingly easy to build a van if you do a tiny bit of research," Gordon advises.
Although Gordon enjoyed getting stuck into such a big project, the real joy is having the ability to go wherever he wants.
It's surprisingly easy to build a van if you do a tiny bit of research,

Gordon
"I'll always have a kind of drive to travel," Gordon says. "I wanted it mainly for the freedom that a van gives you, you know, you've got everything here - you've got your sink, you've got your cooking facilities, you've got your bed and it means you just have the ability to put a few things in and you can go for a weekend or longer if you wish. Just get out of the cities and into the countryside."
While studying at the University of Stirling, Gordon plans to see as much of Scotland as possible.
Emma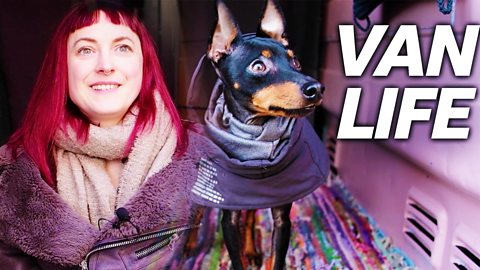 Emma couldn't find a dog-friendly flat... so she bought a van!
After previously working in the Aberdeen oil industry, Emma changed career and became a barista in a Leith coffee shop. While looking for flats, Emma struggled to find a place that would allow her to move in with her dogs.
"Somebody I know lives in a van and had said: 'why don't you think about it?'," Emma recalls. "So I looked into it and I started researching and here we are. I don't have to worry about accommodation, you know, I just take the van and I park outside of my friend's house and I can sleep in it."
Although living in her van has helped with living costs, there are sacrifices.
"I don't have a shower in the van so I have to go to the gym," Emma says. "I try and do exercise, but quite often I just, I'm lazy, and I just go in and have a shower, and then go to work."
I just take the van and I park outside of my friend's house and I can sleep in it

Emma
Emma packs her days with work, walking her dogs, meeting friends in the pub, reading and, thanks to the TV she installed in the van, watching Netflix.
"What I do is not hugely weird. I'm a normal person, I have a job, I pay tax, I do all of these things - I just don't have a brick and mortar house."
William and Laura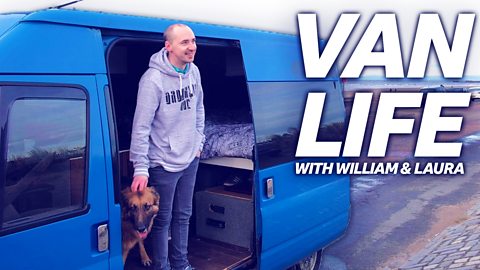 There's no privacy when you live in a tiny van!
William and Laura have been together for three years. They are both students. William studies photography and Laura's learning to be a professional cook. They ditched the 'norm' and began to live out of a van to reduce the cost of living.
"It's not a cheap way of living, but is a cheaper way of living," William says. "It's so much better than being in a house for us. Although it is such a small space, we make the best of it."
'Making the best of it' has been a work-in-progress after buying the van in a less than ideal state. "When we got the van it was not great," Williams says. "No running water, the insulation wasn't great, just things like that."
Since then, they've added solar panels, new laser batteries, a sink, raised double beds, cupboards, the list goes on. And there's more to come...
"I'd like to add a shower cubicle to a bigger van so that's probably the plans for next year maybe, we'll see," William says.
The shower upgrade is less of a priority for Laura. For her, the toilet situation could be improved. "Yeah, I'm really weird with [the lack of privacy]," Laura says. "You're like, 'don't look, close your eyes'."
However, like the others, freedom is the reward for these minor inconveniences. Freedom that has enabled the couple to clock up 25,000 miles in only eight months but, they say, even the pricey fuel bill is worth it.

This article was originally published 9/7/2020