Main content
New Generation Thinkers: Turning ideas into television
14 April 2015
Each year a group of young academics, who have the potential to turn their ground-breaking ideas into sensational broadcasting, are selected by producers from BBC Radio 3 and BBC Arts, together with the Arts and Humanities Research Council.
The scheme receives hundreds of applications from academics at the start of their careers who are passionate about communicating modern scholarship to a wider audience.
The 2014 New Generation Thinkers were announced at a special event at the Hay Festival, as part of the partnership between BBC Arts and the annual literary and arts festival.
This current group of New Generation Thinkers has been working with BBC Arts to develop ideas for television, having already appeared on BBC Radio 3 and at the Free Thinking Festival at Sage in Gateshead.
In the ten films below, the New Generation Thinkers reveal some of the stories they are passionate about.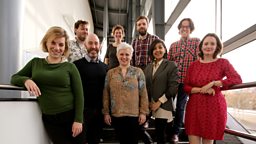 Sophie Coulombeau on BBC Arts
200 years since the death of master caricaturist James Gillray, New Generation Thinker Sophie Coulombeau examines Gillray's influence
More from BBC Arts on iPlayer
Elite dancers from across the globe create a modern-day Swan Lake from their own bathtubs

The Oscar-nominated actress gives a singing masterclass