Main content
Home Is Burning by Dan Marshall
About the Book
Dan's mom has always had cancer. First diagnosed when he was only ten years old, she was the model of resilience throughout his childhood, fighting her disease with tenacity and a mouth foul enough to make a sailor blush. But just as she faces a relapse, her husband —a successful businessman and devoted father—is diagnosed with ALS. He is told that in a few months' time, he be unable to walk, eat, or breathe on his own. Dan, a recent college graduate living the good life in Los Angeles, has no choice but to return home to help.
Reinstalled in his parents' basement (in one of the only non-Mormon homes in a Salt Lake City subdivision) Dan is reunited with his siblings. His older sister Tiffany is resentful, having stayed closer to home to bear the brunt of their mother's illness. Younger brother Greg comes to lend a hand, giving up a journalism career and evenings cruising Chicago gay bars. Younger sister Michelle is a sullen teenager experimenting with drinking and flirting with her 35-year-old soccer coach. And baby sister Chelsea—the oddest duck in a family of misfits—can only think about dance. Together they form Team Terminal, going to battle against their parents' illnesses and cracking plenty of jokes along the way.
As Dan steps into his role as caregiver, wheelchair wrangler, and sibling referee, he watches pieces of his previous life slip away, and comes to realize that you don't get to choose when it's time to grow up.
About the Author
Dan Marshall grew up in a nice home with nice parents in Salt Lake City, Utah, before attending UC Berkeley. After college, Dan worked at a strategic communications public relations firm in Los Angeles. At 25, he left work and returned to Salt Lake to take care of his sick parents. While caring for them, he started writing detailed accounts about many of their weird, sad, funny adventures. Home Is Burning is his first book.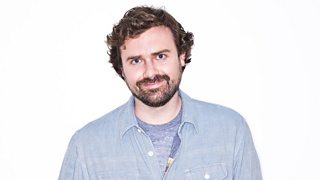 Q & A

When I write, I like to…
...listen to music, drink a ton of iced coffee and check Facebook over and over and over again, hoping for some sort of connection since writing is pretty lonely.
One thing that people don't know about me is…
...I'm really good at pinball. There's nothing more thrilling than getting a multiball. Nothing. Not to sound like I'm the coolest person in the world, but my favorite machine is the Lord of the Rings. It's way better than the books and movies, and the books and movies are awesome.
The book that inspired me to write is…
...a friend gave me A Heartbreaking Work of Staggering Genius by Dave Eggers when I first moved home to take care of my parents. The book's honesty and humor greatly influenced both my approach to the situation and the way that I wrote about it. So I'd have to say that one.
One of my favourite authors is...
...Charles Bukowski. I'm a big fan of the sharp and simple way he writes. He's so entertaining and so easy to read. I'm not that smart so I need stuff that's easy to read.
The thing I love most about words is…
...I love the different ways they can be used. Words are endlessly powerful and versatile. They can be entertaining or boring. Informative or useless. Sad or funny. They're by far my favorite way to communicate and connect with people, besides Facebook.
Sample the Book
Please be advised, this chapter contains very strong language and adult themes.