Main content
Everything you need to know about the Hay Festival 2019
The Hay Festival is the annual literary extravaganza which sees the great and the good share their stories with the world. Here we've picked just a few of the must-see names from the 2019 line-up, along with details of how you can experience Hay on the BBC.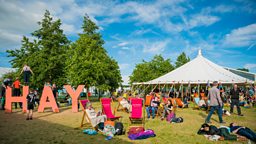 Hay Festival | Photo: Sam Hardwick
Maxine Peake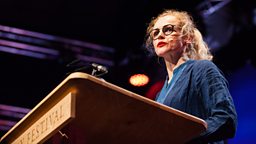 Maxine Peake was at Hay giving a reading of Percy Bysshe Shelley's radical poem The Masque of Anarchy, which was written in response to the Peterloo Massacre that took place in Manchester in August 1819.
The actor, who also starred in the Mike Leigh film based on the events of Peterloo, gave her reading on the Baillie Gifford Stage on Saturday 25 May. Watch it here for 30 days.
Stephen Fry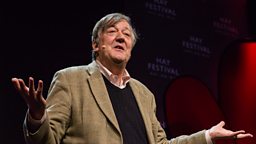 The former QI host – president of the Hay Festival since 2014 – showcased some work in progress from his new book on Greek mythology, which follows Mythos: The Greek Myths Retold and Heroes: Mortals and Monsters, Quests and Adventures.
Fry appeared on the Baillie Gifford Stage on Sunday 26 May, and the session is available on BBC iPlayer for 30 days.
Carole Cadwalladr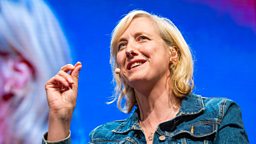 Winner of the Orwell Prize and the Reporters Without Borders Award, Carole Cadwalladr came to Hay to talk about the investigative journalism she undertook to expose the data analytics used to subvert the EU referendum and the American presidential election.
The journalist was in discussion with Oliver Bullough on the Baillie Gifford Stage on Saturday 25 May. Watch a clip here.
James Ellroy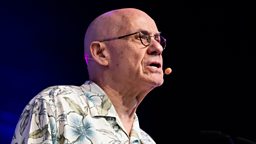 Author of the acclaimed LA Quartet: The Black Dahlia, The Big Nowhere, LA Confidential and White Jazz, James Ellroy was at Hay to talk about his new book This Storm, a crime novel that unfolds in Los Angeles and Mexico in the wake of Pearl Harbor.
Ellroy was in conversation with Mark Lawson on Saturday 1 June in the Oxfam Moot tent, and the session is available on BBC iPlayer for 30 days.
Lucy Worsley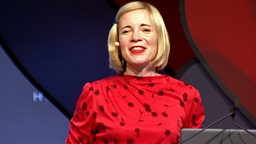 The historian introduced her new book, Queen Victoria: Daughter, Wife, Mother, Widow. On the face of it, Victoria was deeply conservative. But if you look at her actions rather than her words, Worsley argues, she was in fact tearing up the rule-book for how to be female.
Worsley appeared on the Baillie Gifford Stage on Thursday 30 May. Watch a clip here.
Ian McEwan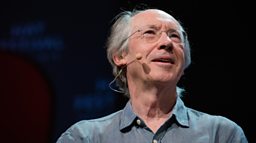 Ian McEwan's new novel Machines Like Me takes place in an alternative 1980s London and, in protagonist Adam purchasing a synthetic human, poses the fundamental question: what makes us human?
McEwan's conversation with Marcus Du Sautoy took place on Saturday 1 June on the Ballie Gifford Stage. Watch a clip here.
Hay online
BBC Arts Digital once again brings you highlights from the festival and makes a number of events available to watch in full via BBC iPlayer.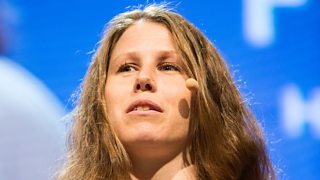 Writer and campaigner Caroline Criado Perez was at Hay to talk about how everyday design excludes women.
A range of articles explore some of the big ideas and extraordinary stories being discussed at Hay - from exposing how everyday design excludes women to the surprising ways fabric has changed our lives.
Hay on radio and TV
A host of BBC radio and television programmes are recorded on site or broadcast live from the Hay Festival.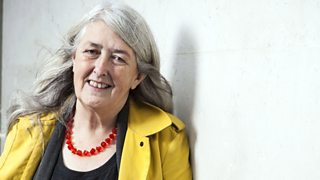 Mary Beard was joined by special guests for Front Row Late.
These include BBC Two's Front Row Late, BBC Radio 4's Start the Week, BBC Radio 3's Free Thinking, BBC Radio 2's Jo Whiley, along with a number of shows from BBC World News, BBC Wales and more. Click here for the full broadcast schedule.
The BBC Tent at Hay
As well as recordings of BBC shows and podcasts, a number of special BBC events at the festival will explore subjects ranging from how books can change our lives to how we should deal with controversial artists. You can book tickets – mostly free – here.
Sophia Jansson and Steve Box
Oscar-winning director Steve Box and Sophia Jansson – niece of Moomins creator Tove Jansson – introduced Moominvalley, a new TV adaptation of the much-loved characters featuring the voices of Rosamund Pike, Kate Winslet, Matt Berry and Alison Steadman.
Box and Jansson spoke with Francine Stock in the Oxfam Moot tent on Wednesday 29 May. Watch a clip here.
Warning: Third party content may contain adverts.
Elif Shafak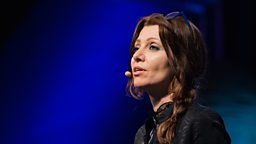 The award-winning British-Turkish novelist delivered the Wellcome Book Prize Lecture 2019, entitled How to Remain Sane in the Age of Populism, Political Uncertainty and Pessimism.
She appeared in the Oxfam Moot tent on Friday 31 May. Watch a clip here.
Emily Maitlis
The BBC Newsnight presenter takes us behind the camera and onto the newsroom floor in her new book Airhead: The Imperfect Art of Making News.
She spoke to Hannah MacInnes in the Oxfam Moot tent on Saturday 1 June, and the session is available on BBC iPlayer for 30 days.