Main content
4 Things We're Not Sure We Wanted To Know About James Brown
After ruining Roald Dahl and Gandhi for everyone, Russell Kane's podcast Evil Genius closed out its second season with a musical turn, charting the misdeeds of a man whose hair, according to Kane, has "more volume than a pensioner's telly" - alongside comedians Johnny Cochrane, Lou Sanders and Tom Lucy.
But was funk originator James Brown evil? Or genius? Before hearing what Russell and his guests have to say, let's look at the evidence.
1. He was a domestic abuser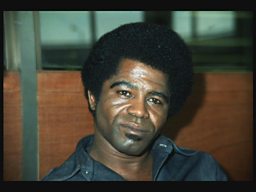 A then-70 year old Brown was arrested in 2004 on domestic violence charges against his backup singer and fourth wife who was 36 years his junior, Tomi Rae Hynie. He pleaded no contest.
This wasn't his first incident either. His violent marriage to Deidre Jenkins was well-documented in his daughter Yamma Brown's memoir, Cold Sweat.
He sent third wife Adrienne Rodriguez to hospital, and she had him arrested four times for assault.
Backup singer-turned-Marvin-Gaye-collaborator Tammi Terrell was "savagely beaten" by Brown in the 60s, and in 2005, he was sued for raping a woman at gunpoint in 1988, but the charges were dropped.
2. Get on up - and vote Nixon?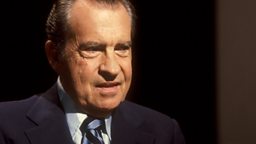 Despite being a figurehead supporting the fight for race equality, James Brown supported Richard Nixon, whose Presidential campaign strategy deliberately exploited racial polarisation in the American South.
Brown also didn't support the notions of welfare or charity, believing that an individual's financial situation is entirely their own doing.
Lou Sanders describes him as "the Maggie Thatcher of the Rock world," since he used his own difficult life as an example of how hard work can supposedly reward the individual - but it's easier said than done when you're a musical genius.
3. The drug-fueled armed rampage
In September 1988, Brown walked into an insurance company meeting being held in the office next to his, high on PCP—a drug Russell calls "the Betamax of drugs"—waving his shotgun around and accusing people of using his private bathroom.
The police were called, but Brown got into his pickup truck, raced off and taunted them on a high-speed chase through Georgia and South Carolina.
He drove into two police cordons, and two of his tyres were shot through, leaving him driving solely on his rims for the final six miles. He was sentenced to prison for six years, but only served three.
4. Money didn't change his band members because they hardly received any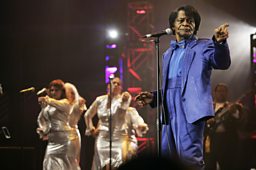 The price for James Brown's meticulousness came at a financial cost to everyone but him. If you watch a live performance of his, you may spot him turning around and pointing at one of his band members. This often wasn't a friendly gesture, but a punishment.
Each time his employees would miss a beat, mess their parts up, or even turn up with unpolished shoes, Brown would dock their pay and let them know with a point.
However many fingers he held up equates to the amount of money being docked.
Additionally, people who creatively contributed to his work and were well within their rights to be credited as co-songwriters and producers were often not given credit or paid appropriately. On top of that, what meagre salaries they did get always seemed to be a few days... or weeks... or months late.
So here's the question: with all that knowledge is it possible to listen to Brown's music and love it?
Before you answer, listen to how Russell Kane and the Evil Genius crew came down on the question. All this and more - in Evil Genius.
Lou Sanders, Johnny Cochrane and Tom Lucy sort the downbeats from the deadbeats in this final episode of Evil Genius's second series