Main content
Teens and mobile phones – helpful or harmful?
Every day we are bombarded with headlines about the perils and pleasures of phone use and social media – from boosting FOMO (Fear Of Missing Out), friendship and anxiety to reducing sleep, isolation and self-esteem. For parents, the digital landscape can seem bewildering and dangerous but for today's teenagers, the first generation to grow up as 'digital natives', it's a way of life.
Child of Our Time invited leading academics psychologist Dr Heather Cleland Woods from the University of Glasgow, sleep expert Dr Christopher-James Harvey from the University of Oxford and the BBC's R&D team to devise a way of measuring our teens phone use, their social media activity and sleep patterns.
The R&D team designed and installed a clever app onto BBC mobile phones and, with the consent of our teens, their friends and parents, legal and editorial policy departments, we monitored our teens phone and social media activity for over a week. For extra insight into their lives we also asked them to wear activity monitors to measure their sleep patterns and quality as well as keep a sleep diary. And, if that wasn't enough, we included some questionnaires about phone use, mood and personality too.
The results featured in Episode Two: Changing Times are just the tip of the iceberg. Even without using their own personal handsets our teenagers phone use was extensive and their ability to multi-task fascinating. But the results revealed striking gender differences and glimpses into how screen use can affect sleep – so critical for the developing teenage brain and body.
Our understanding of the impact of this constant connectivity is still in its infancy and it's hard to predict the long term social, biological and psychological consequences. But what emerged through our monitoring – and our interviews with our teens – was that their relationships with their phones were as complex and unique as they are.
And perhaps needing a private space away from the watchful eyes of parents isn't quite so different from every generation of teenager before them.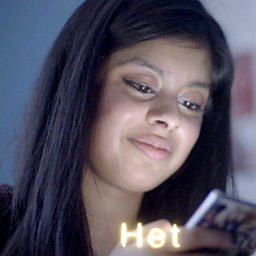 Het is part of the first generation of 'digital natives'