Main content
Team micro:bit chat to the Battle of the Stars celebs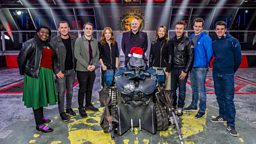 Many of the Roboteers on Robot Wars have been building robots for a while, some of them since the 90s!
But what is it like to build your very first robot? We talked to some of the celebrity guests on the Battle of the Stars special to find out what their Robot Wars debut was like.
Dr Maggie Aderin-Pocock
Maggie is a space scientist television presenter who has help build and design all sorts of useful gadgets, from super-powered telescopes to satellites. For her, making fighting robots isn't rocket science!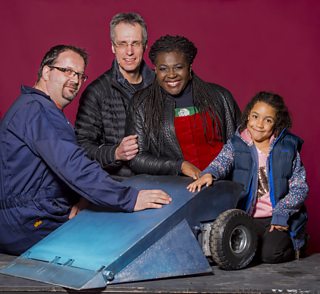 Maggie, along with and her husband and daughter are already huge fans of Robot Wars. They teamed up with Shane of Team Dantomkia to make her robot Interstellar. Interstellar's flipper design was inspired by current 2016 champ Apollo.
Even with her engineering skills, Maggie learned a lot from Shane - who helped give her robot some design upgrades, some hints on how to survive in the arena and even shared welding techniques!
What are your top tips for making your first robot?
Simple is good, this is especially important for a first robot.
A modular design really helps, if you get hit in a battle and easy to take apart and construct design helps and it is easier to replace any damaged parts
Chose your wheels carefully, pneumatics can easily be damaged and an outer housing to protect them can be very useful
Would you recommend robot building to others?
The skills involved in building a robot are wonderfully challenging; it is a great combination of engineering skills, design, mechanics, electronics and software. The skills needed for building robots is very similar to the skills that I use to build space satellites so who knows where the things you learn building your robot will lead.
Scott Mills and Chris Stark
It's a radio DJ tag team! Scott and Chris entered the Robot Wars arena together - teamwork makes the dream work, after all.
The two radio DJs teamed up to enter into the Battle of the Stars. They were mentored by 'Dangerous' Dave from Team Carbide. Their robot, Arena Cleaner, has a horizontal spinning blade, just like Carbide!
They've both been star struck by the house robots. Chris tried to get selfies with Sir Killalot and Scott has been getting a ton of tweets from Matilda.
What are your top tips for making your first robot?
Chris: My three tips would be...
Come up with a good robot name
Make sure to try and hide the wheels so you don't get taken out quickly (hide your weak spots!)
Make sure the weapon your robot has is impressive and massive to scare the opposing team.
Scott: We wanted a robot that would do as much damage as possible and look vicious!
What did it feel like seeing your creation on the battlefield?
Scott: It's incredible how such little things can have so much power. Even though you might think, "they're only remote control, they can't be that deadly" but honestly, I really wouldn't want to be in the arena at the same time as them!
Would you recommend robot building to others?
Chris: I would recommend robot building to others, it's a lot of fun, but make sure you have a clear idea of how you want your robot to look and work before you start building! Planning is key! Also, some robots can be expensive to build so make sure you can easily get the parts.
Jonathan and Alistair Brownlee
The first British brothers to ever finish first and second in an individual event at the Olympic games, the Brownlee brothers are long-time Robot Wars fans with a serious competitive streak.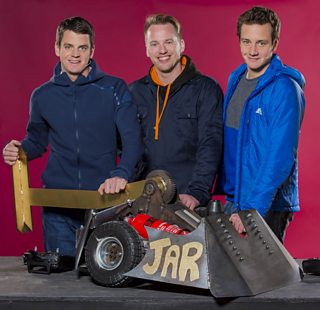 The two triathletes have always been interested in how the robots on the show were made and controlled, so they had much to learn from their Roboteer mentor, Gabriel from Team Sabretooth.
Their robot, Jarbot, features a massive golden hammer - a classic design. The brothers are always ready for action - Gabriel was sure to warn them not to rush in... and definitely to learn the controls before combat!
What are your top tips for making your first robot?
Jonathan: Do your research, take your time planning it, and make sure you test it properly before you use in the arena.
What did it feel like seeing your creation on the battlefield?
Alistair: Yeah, it was exciting but I was concentrating on what needed to be done to win!
If you could have a robot in your life what would you have them do for you?
Alistair: It would clean the house... or maybe my bikes, haha!