Main content
The Fourth Dimension
Nightmare of Eden
EARLY TITLE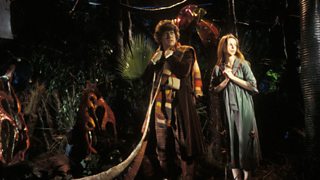 This story was originally known as Nightmare of Evil.
CAPTAIN OF THE SHIP
David Daker plays Captain Rigg, commanding officer of the Empress. Daker had previously appeared in The Time Warrior in 1973/4 as the robber baron, Irongron. That story – like Nightmare of Eden – was directed by Alan Bromley.
GERMANIC TRYST
Author Bob Baker had not intended Tryst to have a Germanic accent. This was an idea introduced by actor Lewis Fiander.
COSTA FORTUNE
Peter Craze plays Costa, one of the customs officers from the planet Azure. Craze had previously played the rebel Dako in the 1965 story, The Space Museum, and the soldier Du Pont who had been abducted by the War Lords in The War Games in 1969. He is also the brother of Michael Craze who played Ben Jackson, companion of the First and Second Doctors.
CORPSING
Major Stott belongs to the intelligence section of the Space Corps, an organisation introduced in the Second Doctor's 1969 story, The Space Pirates.
BOX OF WORLDS
As well as Eden, we briefly glimpse some of the other bits of worlds that Tryst has captured in his CET machine. With the exception of Eden, all these images were taken from footage shot for episodes of Gerry Anderson's series, Space: 1999.
SUPER DOG
In addition to his usual red laser beam fired from the gun barrel in his muzzle, K-9 uses a blue beam, which makes a different sound, to weld a metal plate.
BOBBING OUT
Writer Bob Baker was the co-author of eight previous Doctor Who stories, all written with Dave Martin. Nightmare of Eden was his first contribution to the series as a solo author, but also his last as he would not write for Doctor Who again.
WHAT THE HECATE?
One of the two ships involved in the early collision is called Hecate. In Greek mythology Hecate or Hekate was a goddess, often depicted holding two torches. She is sometimes associated with crossroads, fire, the Moon and magic.
IN THE ARCHIVES /DVD RELEASE
All four episodes of Nightmare of Eden are held by the BBC in their film and videotape library. The adventure was released on in 2012 and includes an audio commentary with actors Lalla Ward (Romana) and Peter Craze (Costa), writer Bob Baker, effects designer Colin Mapson and makeup designer Joan Stribling, plus a 'making of' doco called The Nightmare of Television Centre.
Related Content
As the vast space liner Empress emerges from hyperspace, it collides with another, smaller vessel, the Hecate.