Main content
Welcome to the micro:bit - Live Lesson
Watch the Live Lesson again
Learn how to create games, animations and robots using simple code
In conjunction with BBC micro:bit, this Live Lesson aims to encourage Key Stage 3/3rd Level students to get creative, programming and making their very own digital creations in school and at home.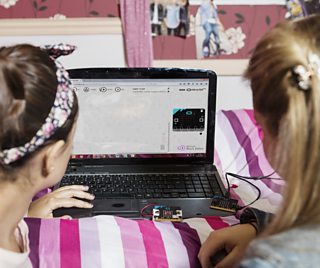 With special guest experts across the field of coding and robotics, we'll be teaching students how to animate and programme their own digital pets, create secret messages that they can share with their friends, make their very own digital and physical games and design their own robots.
We're asking schools to get involved with special activities before the Live Lesson. Students can download, manipulate and adapt the code that we'll be using in the lesson, and send in their creations with a chance to be featured on the Live Lesson broadcast.
We've also included a full lesson guide, which you can download below, that will help you plan for the lesson.
Find out all about our presenters Dan Walker, Ana Matronic and Ella Williamson and their special guest experts.

Learn how to hack your bedroom using the BBC micro:bit with our special guest Amy Mather.
Get ready for the Live Lesson
Find out more about the BBC micro:bit and what you can do with it on the micro:bit website.

Learn about the BBC Make It Digital season and what we're doing to promote digital creativity.