Main content
Peaky Blinders was almost commissioned in the 90s
And four other things you didn't know about the hit series...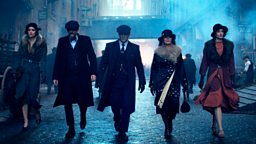 Think you know everything about Peaky Blinders? Think again. On the first episode of Obsessed With... Peaky Blinders, creator Steven Knight digs deep into the show's origins, the actors who wanted (and still want) to star in the hit drama, and what we can expect from season five.
Here's what we learned from Steven...
1 | It was almost commissioned in the 90s
"I first put a treatment together in the 90s to Channel 4, and thank god it didn't happen," Graham revealed.
"In those days there wasn't the technology to do it justice. No CGI."
Decades later that he landed a commission from the BBC, who essentially gave him free rein to conceptualise Peaky Blinders and it finally aired on BBC Two in Septemeber 2013.
"They were so free and open with it. I wrote two episodes and they commissioned it. In the mysterious way of scripts, the scripts got out there, and we started getting calls from actors. Cillian Murphy made contact and it snowballed from there."
2 | Cillian Murphy partly-persuaded Steven to give him the role
After initial auditions, Steven was convinced that he had a potential Tommy Shelby. But he was struck by how kind and unassuming Cillian was in comparison to his potential character.
Following one audition, Cillian texted Steven: "Remember, I'm an actor."
And he was right – Cillian is ingenious as Tommy.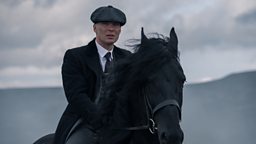 3 | Steven hasn't seen any of the shows Peaky Blinders has been compared to
Not Boardwalk Empire, at least. Or Gangs of New York. Those two shows were quickly compared to Peaky Blinders when it first hit our screens. At the time, Steven was a bit baffled by the comparisons
"I remember people calling Peaky the British Boardwalk Empire, and I thought: 'What are they on about?' That's gone away, I think."
He doesn't watch a great deal of TV or cinema. "I used to pretend I'd seen things."
Although one influence does stick with him. "Everyone absorbs The Godfather through the pores of their skin, and it's a template you could never possibly aspire to."
4 | Stephen Graham isn't the only star you might see pop up in the final two seasons
Steven is hesitant to make Peaky Blinders a vehicle for Hollywood cameos. He doesn't want the show to become a "spot for celebrities."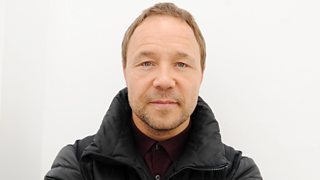 However, as Peaky approaches its final two seasons, he says he's going to "open the gates a bit." So prepare yourself for a few surprises...
Stephen Graham looks set to star in the show further down the line. "I've already got [the role], but I'm not gonna tell you," he said when quizzed by Laurence.
And he was coy when asked if Julia Roberts had asked for a role. "I don't know where that got out!"
Don't get too excited for any Game of Thrones-style mini-cameos, but keep your eyes peeled for the next two seasons (not that you'd be able to steer yourself away from the screen anyway...)
5 | Anna Calvi has written season five's score
Like big-name actors, acclaimed musicians are also desperate to get involved in Peaky Blinders. Mercury Prize-nominated star Anna Calvi has written season five's score.
"We're very fortunate that we can get music another show might not get, because people really want to be a part of it," Steven says.
One of those people was David Bowie. It's no secret he was a massive fan of the show, so much so Cillian even sent him a flat cap from series one as a Christmas present.
Shortly before Bowie's death in 2016, his business manager pitched the 'Blackstar' album to appear as part of Peaky's score. Steven called the moment "astonishing".
Every episode from season five dissected – with the help of the actors, directors and creators who make the show happen.