Main content
5 celebrity exes who stayed friends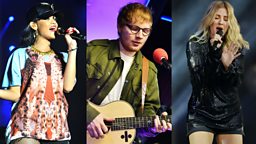 What happens when an artist drops a long-awaited album? The internet turns all kinds of Inspector Clouseau (top marks if you knew how to spell it!) and gets to work decoding each track; most pressingly, figuring out the inspirations behind the songs. Pretty standard behaviour, right? We're inquisitive creatures and all that jazz.
This week it's Demi Lovato receiving the Inspector Gadget treatment (we're rapidly running out of Inspector references) as the internet swarms on her new album, Tell Me You Love Me, paying close attention to the song Ruin The Friendship...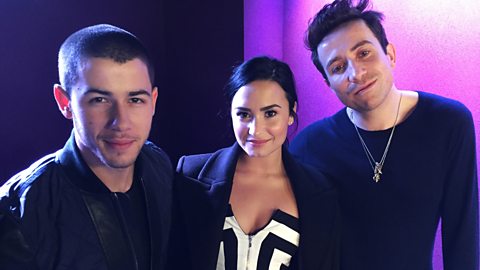 Fans are convinced but Nick is being pretty tight-lipped about it...
Demi and Nick Jonas have been firm friends for over a decade (they starred in Disney flick Camp Rock together in 2008) and fans are all but convinced that the track is about the Jonas brother. Cigar smoker? Yup. Guitar player? Double yup. Friend? Yup, yup, yup!
Speaking to Noisey, Demi elaborated on the inspiration behind the banger and what happened when she shared the song with that certain someone...
"I was frustrated with a certain situation. And I was like, 'You know what, I'm just going to write about it.' And so I did, and sent [the songs] to that person, and that was... interesting. Any time you send a song about the person, to the person—it's ballsy. It's like, 'Hey! Here's my feelings for you!'. They knew [about my feelings], but neither of us had acknowledged [them] before. And then it turned out that person had written a song about me, and we exchanged songs."
From Taylor Swift's infamous tracks to Ed Sheeran and Gwen Stefani, here's a look at the songs you didn't know were inspired by other stars.
Anyone fancy penning a song about us? No? OK, moving on. Despite the constant are they-aren't they, will they-won't they surrounding Lovato and Jonas (Jovato?), the singers have remained solid pals and - spoiler alert! - it turns out they're not alone! Here are four other A-lister pairings schooling us all in the art of friendship after romance...
Ellie Goulding & Ed Sheeran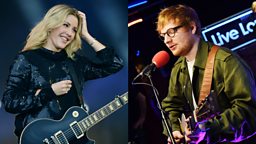 You may be familiar with Ed's track, Don't, but are you familiar with the backstory? Allow us to elaborate...
Rumours swirled for months that Ed's hit track about a messy break-up was about Ellie Goulding, his rumoured girlfriend, cheating on him with close friend Niall Horan. While the crooner hasn't ever confirmed that that's the case, he has revealed that he and Goulding were an item when they attended the 2013 MTV VMAs. Fast forward two years and everyone was convinced that Ellie's 2015 track, On My Mind, was her reply to Ed. The lyrics are damning ("You wanted my heart but I just liked your tattoos") but Ellie's never elaborated.
Four years later and, according to Ed, the drama has well and truly died down: "That's the end of it," he told The Sun. "I'm grateful I could get a song out of it, to be honest."
Everyone's a winner! The pair have since shared many a hug and warm greeting at award shows galore (in our world it's the pub, in theirs it's the Victoria's Secret after-party) so it's safe to say that they've let these rumoured bygones be bygones.
Rihanna & Drake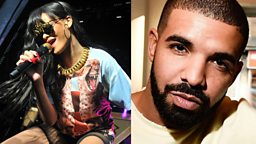 Dubbed AubRih (it's like it was meant to be) and loved by the internet at large, the relationship between Rihanna and Drake hasn't been smooth sailing if Drizzy's lyrics are anything to go by.
Supposedly referencing Rih and their first date at Lucky Strike in Fireworks ("Who coulda predicted Lucky Strike would have you stuck with me? What happened between us that night, it always seems to trouble me") and Made Men ("One of my baddest women ever, I call Rihanna, But that's because her name is Rihanna") among a whole lot more, it seems as though this duo is constantly flitting between pals and partners.
Speaking to MAX Choice FM back in 2012, Drake dished on his feelings for RiRi: "I think that we have a connection that's established for life and that is that I love her and support her unconditionally, and I like to think that she feels the same way. Do I fancy her? Of course, I mean who wouldn't? Look at her, she's stunning. Of course I do. Yeah, no, she's incredible."
Moral of the story: you've just got to do whatever work, work, work, work, works for you.
From RiRi to Serena Williams, here are the five stars that Drizzy just can't shake.
Orlando Bloom & Katy Perry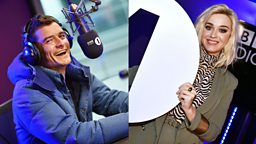 It's been over a year since photos of Orlando Bloom and Katy Perry paddle boarding surfaced and, thanks to Orlando's penchant for being au naturel (read: starkers), we've never been able to look at a paddle board in the same way (granted, this is only really an issue on holiday but STILL).
Fast forward to March 2K17 and the pair announced that their board-based escapades were behind them as they were parting ways but - wait for it! - they were still pals.
"We're friends, it's good," Orlando told ELLE UK. "We're all grown up. She happens to be someone who is very visible, but I don't think anybody cares about what I'm up to. Nor should they. It's between us. It's better to set an example for kids and show that [breakups] don't have to be about hate."
This isn't Orlando's first foray into putting friendship first: he is on famously fab terms with ex-wide, supermodel Miranda Kerr. He's got this stuff sussed.
Chris Martin & Gwyneth Paltrow
It would be straight-up remiss of us not to include the founders of the 'conscious uncoupling' movement in this 'ere listicle. It's been three whole years since the term first entered our lexicon (time flies etc etc) and, despite the world's initial confusion over what exactly it meant, it cemented Chris and Gwyneth's status as trailblazers in the 'staying friends with your ex' department.
"I wanted to turn my divorce into a positive," Paltrow told The Edit. "What if I didn't blame the other person for anything, and held myself 100% accountable? What if I checked my own [stuff] at the door and put my children first? And reminded myself about the things about my ex-husband that I love, and fostered the friendship?"
Bravo, guys. You truly paved the way.